Twinhead "Durabook" notebooks ready for the real world
Press release; Editor, DigiTimes.com, Taipei
Twinhead International is exhibit its new series of "Durabook" notebooks at its Neihu headquarters during this year's Computex Taipei. The Durabooks are designed to withstand the hazards that may harm notebooks during daily usage. They are available in both Intel and AMD flavors.
Durabooks vary in form, function and features, but share the common traits of being drop- and shock-resistance and spill proof. Durabooks all have a magnesium alloy case that is 20 times stronger than usual ABS plastic. The LCD monitor is contained in an anti-shock mounting design, while the optical drives have a patented locking mechanism. There are two models available for each platform: the 15D and 14D Intel-Centrino models and the 14K and Lite 12KS AMD-based models.
The Durabook 15D supports Intel's Pentium M CPU and is based around the 915GM chipset. It supports SATA with a 150MB/s data transfer rate and 10/100/1000 Mbps Ethernet. The Durabook 14D is a 14-inch model that also uses the 915GM chipset and supports DDR2 533 SDRAM.
The Durabook 14k is a 64-bit model that supports AMD's Athlon 64 or Sempron, while the Lite 12KS uses the Turion 64 or Sempron. Both notebooks offer AGP4x/8x high-performance graphics.
In addition to the Durabooks, Twinhead is also displaying its 17P, 17K and 12K traditional models. The 17P has a 1440x900 resolution 17.1-inch LCD monitor, making it best suited to multimedia applications. This notebook supports Intel's 3GHz Pentium 4 530 CPU. Buyers can choose between an Nvidia or ATI graphics solution.
The 17K is another multimedia-oriented notebook, which offers the AMD Athlon 64/Sempron CPU. It is equipped with an Nvidia Geforce Go6600 (codenamed NV43M) on a PCIe interface with dual-channel DDR SRAM.
For those who are looking for a slim, light and wireless-ready notebook, Twinhead offers the 12K. This model supports AMD's Turion 64 or Sempron CPU and offers AGP 4x/8x graphics. The 12K weighs just 2kg and is aimed at providing a high-mobility solution.
For an up-close look at the Durabooks and Twinhead's other products, a trip to the company's Neihu headquarters is required (see advertisement on back page). Alternatively, you could visit www.twinhead.com/index.aspx.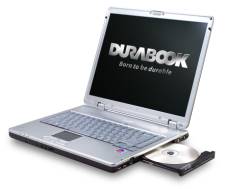 Twinhead Durabook 15D.
Photo: Company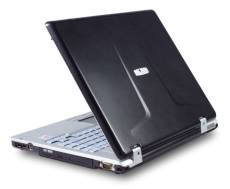 Twinhead Durabook 14D.
Photo: Company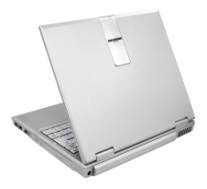 Twinhead's Lite 12KS supports 64-bit applications on a 32-bit platform.
Photo: Company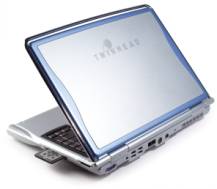 Twinhead's wide-screen 17P notebook.
Photo: Company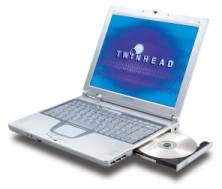 Twinhead's slim and light 12K only weighs 2kg.
Photo: Company