ASRock pushes low price motherboard for entry-level market
Monica Chen, Taipei; Joseph Tsai, DIGITIMES
Friday 27 July 2007
ASRock has launched its ConRoe1333-series motherboards featuring FSB support up to 1333MHz.
ASRock adopts the Intel 945GC A2 stepping chipset for the series. Although Intel's official maximum FSB support for the chipset is only up to 800MHz, ASRock has been able to reach 1333MHz allowing the motherboards to support the new Core 2 Duo E6050-series processors.
The ConRoe1333-series including ConRoe1333-D667 (with IGP) and ConRoe1333-GLAN (non-IGP) have channel prices in China around RMB$445-495 (US$58.85-65.46), noted the sources.
In additional news, ASRock's 2006 revenues were NT$12.84 billion (US$390.5) with net incomes after tax of NT$1.78 billion, and an EPS (earnings per share) of NT$23.94, while its first half of 2007 revenues were NT$5.29 billion. The market predicts ASRock's 2007 net incomes after tax will have a chance to increase 30% on year, while EPS will jump to over NT$30. ASRock's goal of shipping 12 million motherboards in 2007 is also expected to be achieved.
ASRock ConRoe1333 series motherboards specification

Model number

ConRoe1333-GLAN

ConRoe1333-D667

CPU

Intel Core 2 Extreme / Core 2 Duo / Pentium D / Pentium Dual Core / Pentium 4 / Celeron / Celeron D
all FSB1333/1066/800/533MHz processors except Quad Core

Chipset

Northbridge: Intel 945GC A2
Southbridge: Intel ICH7

Memory

Dual channel DDR2 667/533 memory up to 4GB

VGA

N/A

Intel Graphics Media Accelerator 950 with maximum 224MB shared memory
Sources: Company, compiled by Digitimes, July 2007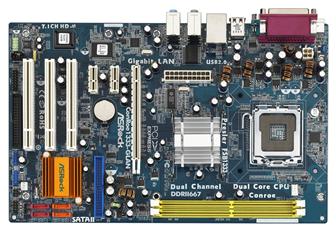 ASRock ConRoe1333-GLAN
Photo: Company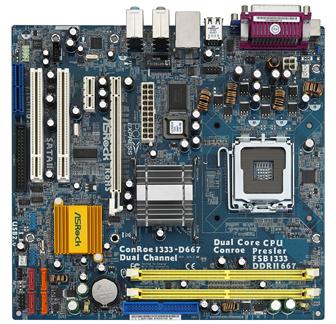 ASRock ConRoe1333-D667
Photo: Company