1613 news items tagged US
US president Donald Trump revealed at a meeting with a group of small-business leaders August 1 that Foxconn chairman Terry Gou told him privately that his company could invest as...

VIA Technologies has announced it has settled its lawsuits with Asustek Computer in Taiwan and the US, with Asustek agreeing to pay VIA US$15 million.

The Foxconn Group has kicked off its US$10 billion "Flying Eagle" project in the US and will begin by building an advanced LCD panel manufacturing plant in Wisconsin. The project,...

Intel has reported second-quarter revenues of US$14.8 billion, up 9% on year. After adjusting for the Intel Security Group (ISecG) transaction, second-quarter revenues grew 14% from...

Taiwan-based industrial PC (IPC) maker Ennoconn has announced it will indirectly invest US$5 million to establish a subsidiary in Suzhou, China. The subsidiary will be responsible...

Taiwan's Ministry of Economic Affairs (MOEA) approved 1,558 foreign direct investment projects (except from China) with a total value of US$3.773 billion in January-June 2017, respectively...

Taiwan's National Space Organization (NSPO) under the government-sponsored National Applied Research Laboratories (NARLabs) on July 19 transported FormoSat-5, a self-designed remote...

Worldwide spending on public cloud services and infrastructure is forecast to reach US$266 billion in 2021, according to the latest update to the IDC Worldwide Semiannual Public Cloud...

Backend houses Chipbond Technology and ChipMOS Technologies have both cut into the supply chains of US and Korea smartphone brands with their gold bumping services, and are set to...

US Department of Commerce has reviewed anti-dumping tariff rates imposed on Taiwan-based crystalline silicon solar cell makers and determined final rates of below 5%.

Worldwide semiconductor revenues are forecast to total US$401.4 billion in 2017, an increase of 16.8% from 2016, according to Gartner. This will be the first time semiconductor revenues...

Worldwide sales of new semiconductor manufacturing equipment are projected to increase 19.8% to total US$49.4 billion in 2017, marking the first time that the semiconductor equipment...

Taiwan's auto parts industry is gaining significant growth momentum for shipments to the US, now the industry's largest export outlet, as some American high-tech heavyweights are...

As AMOLED displays quickly displace LCDs in smartphones, panel makers are rapidly adding new production capacity accelerating demand for fine metal masks (FMM), a critical production...

According to the IDC Worldwide Quarterly Cloud IT Infrastructure Tracker, vendor revenues from sales of infrastructure products (server, storage, and Ethernet switch) for cloud IT,...

The solar photovoltaic (PV) glass market is projected to grow from US$4.38 billion in 2017 to US$18.48 billion by 2022, at a CAGR of 33.4% from 2017 to 2022, according to Marketsan...

Touch panel maker General Interface Solution (GIS) has completed selling 30 million new shares in the form of global depository receipts (GDRs) raising US$207 million to finance capital...

Foxconn Electronics (Hon Hai Precision Industry) has announced an investment project, the Flying Eagle, in the US. The project's planning will be finalized in the third quarter,...

Taiwan's Ministry of Economic Affairs (MOEA) approved 1,260 foreign direct investment projects (except from China) with a total value of US$3.316 billion in January-May 2017, decreasing...

LED packaging service provider Everlight Electronics has revealed it has filed with the US District Court for the Northern District of California a charge accusing US-based LED lighting...

China-based Huawei reportedly plans to set up R&D centers in China and the US for development of VR/AR/MR related products and applications, according to industry sources.

There are 15 companies forecast to have semiconductor capital expenditures of more than US$1 billion in 2017, up from 11 in 2016 and only eight in 2013, according to IC Insights.

The market for UAVs (unmanned aerial vehicles), commonly known as drones, is growing quickly thanks to the diversification of products. Demand for consumer, entertainment, professional...

North America-based manufacturers of semiconductor equipment posted US$2.17 billion in billings worldwide in April 2017 (three-month average basis), according to SEMI. The billings...

China-based IT vendor Lenovo Group on May 25 released its financial report for the fourth quarter of its fiscal year ended March 2017, posting consolidated revenues of US$9.58 billion,...
Related photos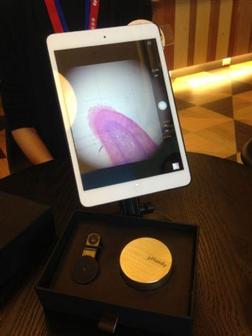 Aidmics uHandy mobile microscope
Photo: Julian Ho, Digitimes, Wednesday 10 June 2015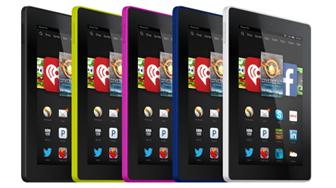 Amazon Fire HD tablets
Photo: Company, Monday 22 September 2014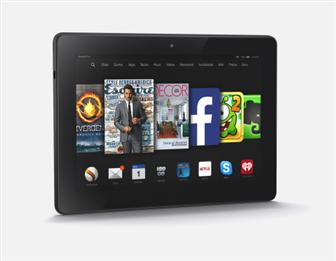 Amazon Fire HDX tablet
Photo: Company, Monday 22 September 2014
Related news around the web