1456 news items tagged PV
In the China market, Germany-based Heraeus shipped the most PV silver paste in the first half of 2017, followed by US-based DuPont, Taiwan-based Giga Solar Materials and South Korea-based...

Mobile telecom carrier Taiwan Mobile (TWM) has announced a partnership with crowdfunding platform operator Sunny Founder for a project to set up a rooftop PV system at a center taking...

General Energy Solutions (GES) has sold a PV station with installation capacity of 14.68MWp in Fukushima Prefecture, northeastern Japan, to a Canada-based clean energy company, according...

Solar cell maker Neo Solar Power (NSP) has announced it has signed a pact with the Workforce Development Agency under Taiwan's Ministry of Labor for setting up a rooftop PV system...

Tatung has completed and begun operating a PV system established on the roof of a gymnasium at National Changhua University of Education in central Taiwan, according to Chinese-language...

Taiwan-based crystalline silicon solar cell makers plan to set up a joint venture PV module factories via strategic alliances to target domestic demand, according to industry sourc...

Solar cell maker TSEC has decided to cancel a plan to establish a joint venture to manage a new PV module factory in Pingtung County, southern Taiwan, and instead will set up a PV...

Crystalline silicon solar cell maker Neo Solar Power on June 26 held an inauguration ceremony for a high-efficiency PV module factory with annual production capacity of 200MWp in...

PV conductive paste maker Giga Solar Materials has announced that Sunshine Solar Power Generation, its Philippines-based subsidiary engaged in investment in PV power generation projects,...

The total installation capacity for additional ground-mounted PV power stations and distributed PV systems completed and on grids around China during January-May 2017 is estimated...

Germany-based PV module maker Aleo Solar GmbH, a wholly-owned subsidiary of solar wafer maker Sino-American Silicon Products (SAS), has seen utilization of annual production capacity...

Sharp will adopt semi-finished PV panel frames produced by Foxconn Electronics, a majority shareholder of Sharp, for PV power-generating stations it will establish in Japan, in a...

TFT-LCD panel maker AU Optronics (AUP) is exhibiting SunVivo and SunPrimo, high-efficiency 5-busbar PV modules made of 60 mono-Si solar cells and 60 poly-Si ones respectively, at...

Industrial computing device maker Advantech has offered Solar Power Management System (SPMS), a smart platform for remote monitoring and cloud-computing management of power generation...

China has set a tentative target installation capacity of 8-10GWp for the third-round selection of model PV power-generating stations, according to China-based media reports.

Smart PV management systems, through IoT (Internet of Things)-based monitoring of PV power-generating equipment and collection of various data about power generation, enable users...

Solar cell maker Gintech Energy has obtained VPC (voluntary product certification) for a series of high-efficiency PV modules made of mono-Si cells from the Taiwan government's Bureau...

China-based Trina Solar has extended business operations to PV energy management systems by combining its internally-produced PV modules with outsourced rechargeable (storage) battery...

Tatung on April 13 inaugurated a PV system floating on an irrigation pond, its first floating PV system, in Taoyuan City, northern Taiwan. The system is able to generate 600,000kWh...

LED lighting maker Nan Ya Photonics has stepped into undertaking EPC (engineering, procurement, construction) and 15-20 year maintenance for rooftop PV systems and PV power-generating...

Demand for PV systems floating on the surface of large ponds and reservoirs in Taiwan is increasing due to higher feed-in tariff rates, according to PV industry sources.

Crystalline silicon solar cell maker TSEC on April 10 held a groundbreaking ceremony for a joint-venture PV module factory located in Pingtung County, southern Taiwan, with initial...

Four Taiwan-based solar cell makers are planning to set up a PV module joint venture, with Motech Industries chairman and CEO Chang Peng-heng as the coordinator, according to industry...

TSEC has disclosed plans to invest NT$1.669 billion (US$54.8 million) to set up what it claims to be the first fully automated PV module production line in Taiwan.

The China government aims to increase the proportion of total PV installation capacity for distributed (rooftop) PV systems mainly through higher feed-in tariff rates than those for...
Related photos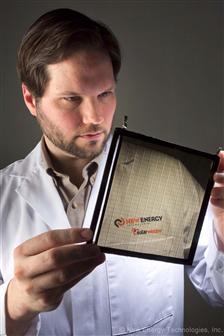 New Energy see-through SolarWindow coatings
Photo: Company, Tuesday 25 November 2014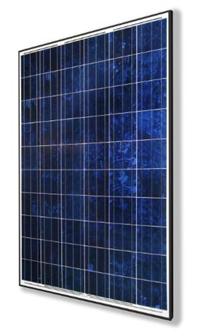 Suntech HiPerforma solar module
Photo: Suntech, Wednesday 13 July 2011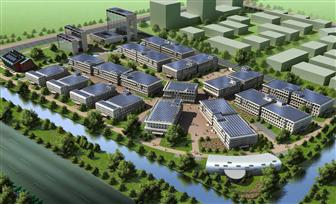 PV park in Hangzhou, China
Photo: Company, Tuesday 15 December 2009
Related news around the web