CES 2014: Asustek to showcase latest smartphones, 2-in-1 and gaming monitor
Monica Chen, Las Vegas; Joseph Tsai, DIGITIMES
Asustek Computer has unveiled in Las Vegas its latest product lineup including the Intel-based entry-level ZenFone smartphone series, the new PadFone mini smartphone, the PadFone X smartphone, the Transformer Book Duet (TD300) notebook and the ROG Swift PG278Q WQHD gaming monitor.
The ZenFone 4 adopts a 4-inch IPS panel, an Atom Z2520 (1.2GHz) 2x2-core processor and a 5-megapxiel back-end camera, while the ZenFone 5 uses a 5-inch IPS+ panel, an Atom Z2580 2x2-core processor and an 8-megapixel PixelMaster camera, which supports High-speed continuous shooting, 400% ISO at low light environments and Image Stabilizer function.
The ZenFone 6 features a 6-inch HD display, a 13-megapixel PixelMaster camera and Asustek's SonicMaster Audio enhancement technology. All the ZenFone smartphones feature 8GB internal storage and support up to 64GB memory cards. The series also support dual SIM card function.
The ZenFone series will be available in March with the 4-inch model priced at US$99, the 5-inch model US$149 and the 6-inch model US$199. The products will launch initially in Taiwan, China and countries in Southeast Asia.
The PadFone mini is a 4-inch smartphone, which can be inserted into a 7-inch tablet. The device comes with Intel's Atom Z2560 and 8GB storage and also supports dual SIM card function. The smartphone is priced at US$249.
The ZenFone series and the new PadFone mini will use Asustek's ZenUI, featuring several Asustek in-house designed applications.
Asustek has also cooperated with AT&T to release the PadFone X in the US. The device is a 5-inch Full HD smartphone that can be inserted into a 9-inch tablet and supports the latest Voice over LTE and Carrier Aggregation. The smartphone also comes with dual-microphones and supports near-field communications (NFC) and AT&T's mobile payment system Isis.
Asustek's Transformer Book Duet features dual-OS function (Windows and Android) and is capable of changing between tablet and notebook.
The smartphones are manufactured by either Wistron or Pegatron Technology and the new products may boost Asustek's smartphone shipments to 10 million units in 2014, according to sources from the upstream supply chain.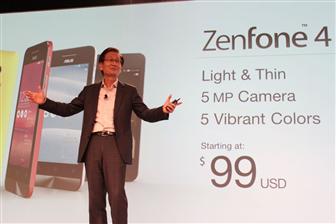 Asustek's new ZenFone 4 smartphone
Photo: Monica Chen, Digitimes, January 2014