Greater China IC design industry overview
Age Yeh, DIGITIMES Research, Taipei
Friday 22 April 2011
This DIGITIMES Research Special Report examines the position of Taiwan and China in the global IC market and explains how past developments, current industry trends, and the strengths and weaknesses of the respective sub-industries (in terms of technological expertise for developing applications) will affect the overall future of the Greater China IC market.
Abstract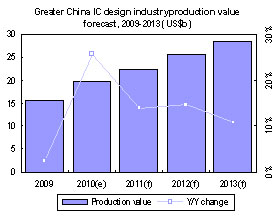 Looking at the development of the Greater China IC design industry during the period 2006-2010, overall output value rose 60% from US$12.3 billion in 2006 to US$19.7 billion in 2010. Within these figures, output value for the Taiwan industry grew 40% to US$14 billion, while output value for the China industry grew 140% to US$5.7 billion.
Thanks to increasing independent product development capabilities and a corresponding rise in the self-supply rate (i.e. sourcing from within China) of components, Digitimes Research believes that the Greater China IC design industry will continue to exhibit growth performance well above the global average.
However, with the slowdown in PC market growth and the explosion in demand for mobile devices becoming increasingly apparent, Taiwan-based design houses have begun to turn their attention to emerging applications including USB 3.0 and touch ICs. Meanwhile the explosion in demand for mobile devices and TV applications has benefitted local IC players in the China market.
In addition, challenges remain for players throughout the Greater China region. The mobile baseband IC sector, for example, is faced with the challenge of turnkey solutions provided by major international vendors, with the result that design houses are actively engaging in mergers and acquisitions to tackle this threat head on.
China-based firms' progress in chip design technology capabilities should also not be overlooked; a number of design houses have even managed to win a place in the ranks of chip suppliers for tier-one brands, and are no longer merely competing on price and forcing prices down across the industry. China-based firms are now represented across all areas of the mobile communications sector, and this comprehensive presence is projected to become a major driver of growth for the China IC design industry in the future.
Digitimes Research believes that this strong presence and the increasing chip design technology level in the mobile communications sector will enable the Greater China IC design industry to sustain growth performance seen during the 2006-2010 period, becoming a driving force that will allow the sector to achieve growth well above the global average. Production value for the Greater China IC design industry is projected to reach US$28.4 billion in 2013.
Table of contents
Price: NT$48,000 (approx. US$1,685)