Shuttle makes a case for supply chain standardization in notebook industry
Staff reporters, DIGITIMES, Taipei
Friday 30 April 2010
Although the PC market has already approached saturation levels, the notebook PC market has maintained healthy and steady growth as demand has shifted away from desktops. According to a report from Digitimes Research, more than 200 millions notebook PCs will be shipped in 2010, and related annual shipment growth will only drop from 40% in 2007 to 33% in 2010. In addition, optimistic forecasts call for 300 million notebook shipments in 2012, with notebooks accounting for 70% of the global PC market.
However, despite the continued strong shipment growth, notebook makers will continue seeing profit erosion for their notebook sales, and major international vendors will see their market share consolidated among fewer players. Even among the major players there has been a market shakeup as cost becomes the driving force in the notebook market. While US players Dell and Hewlett Packard (HP) have remained market leaders since 2006, Japanese brands have found it difficult to compete internationally and have either exited the market or yielded share outside of Japan to regional players such as Acer, Asustek Computer, Lenovo and Samsung.
The key factor in this market shift has been the increased reliance on Taiwan notebook ODMs, who can help vendors control their costs. Outsourcing to Taiwan makers has increased steadily over the past decade and ODMs and OEMs from Taiwan now account for more than 90% of global notebook shipments.
Looking forward to the next few years, several high-growth regions remain under-developed in the global notebook market. Regions including the Asia Pacific (especially China), Middle East, Eastern Europe, Africa and Latin America will continue delivering strong growth and these emerging markets will account for about half of the global shipment growth over the next few years. These regions represent a great opportunity for new business models in the notebook market, with second-tier (channel and regional) brands having a chance to develop their business and compete with the large brands.
However, regional players need to fully understand the dynamics of the market before they can compete with international brands. It is very difficult to compete on price when lacking economies of scale. To address these issues, Taiwan motherboard and PC system maker Shuttle recently hosted a forum on integration and innovation within the notebook supply chain, with Digitimes Research, IT player Advance, China-based notebook maker 3NOD Group and Brazil-based Intelbras S.A offering their perspectives.
Shuttle: A new business model
Kelvin Chen, Shuttle marketing vice president, pointed to the China market as an example of where regional players have lost out in the notebook market. Chen noted that local China brands have been losing out to international brands for the past decade, with their share of the local market dropping from 20% in 2001 to 7% in 2008. While many would assume that local players in the China have a cost advantage over foreign rivals, in fact the opposite is true. Cost advantage in the notebook industry is often tied to economies of scale. The bigger your volumes the lower your costs.
Digitimes Research senior analyst Joanne Chien explains that the notebook market is much different than the desktop PC market. In the desktop market, components such as motherboards and chassis have industry standards so vendors can choose among numerous suppliers to source their products, mixing and matching products and suppliers to optimize their systems and profits. This has also promoted competition in the desktop component supply chain, keeping costs down and allowing channel players to source components cheaply. This – combined with their local expertise – has allowed channel players to ward off competition from large international brands, who only account for about a half of the global desktop market.
However, the supply chain in the notebook market is much more fragmented. There is a lack of standards and flexibility for components. Each vendor and/or maker defines the standard, so customers are locked into just a few suppliers or perhaps even only a single supplier. This allows the players with economies of scale (the big vendors) to have a cost advantage when sourcing notebooks, and has caused regional brands to suffer a disadvantage in the market.
In addition, the traditional strengths of local vendors – their flexibility and responsiveness to customers – only further adds to their costs and makes it very difficult for channel players to compete in a notebook market that increasingly focuses on price.
The argument against this is that large international vendors are relying more and more on Taiwan notebook ODMs, so channel brands can simply do the same to reduce their costs. However, large notebook makers have built a business model whereby they must target the big brands. They offer extremely competitive pricing that allows for razor thin margins. These makers only see profits because of the huge volumes they deliver.
It is not worth it for these first-tier makers to partner with regional brands who cannot deliver the volumes they need. And therefore regional players source instead from second-tier makers, who can deliver similar quality as their larger rivals but not at a similar price.
To address this issue, Shuttle has been promoting the idea of standardizing notebook component design, such as for motherboards. This will promote a system where the cost of developing components can be shared among various industry players, giving them a combined economy of scale. Shuttle is promoting this system by establishing strict certification requirements for cooperating suppliers to ensure product quality. This type of horizontal integration production model on the supply side of the notebook market can also promote more flexibility and innovation from downstream vendors, as their sourcing costs will be reduced.
Clients will be able to choose standardized LCD panels, system platforms, industrial design and shipment style for their notebooks. Chen pointed out that the procedure will allow regional brands to manage their notebook business much like they manage their desktop PC business. The system would also take into account various industrial designs, while maintaining thermal integrity, to promote choice and differentiation in the market.
Shuttle's current notebook solutions cover support of panels sized from 10- to 17-inches. The platform supports Intel Calpella, Montevina, Atom and CULV processors as well as CPUs from AMD and VIA Technologies. Shuttle will provide a window into the complete supply chain for components such as LCD panels, hard drives, optical drives, DRAM and CPUs and through Shuttle's Qualified management system, customers can be assured of the quality of the end product. Shuttle also has an established global client base to build up momentum for the platform, and that Shuttle would add its i-Power technology to use in the notebook solutions.
Case study: China
The white-box notebook market first began being noticed by notebook players a couple of years ago. Small regional IT players, ranging from handset makers to channel distributors, began developing their own notebook models for the local China channel. These players were extremely creative with their designs and business models, often making due with makeshift factories to get products to market quickly. However, these makers did not see big success due to weak product definition and insufficient industrial support, in other words, they lacked the technology, cost control and marketing to maintain their markets.
White-box notebooks in the China market need to be simple, small and stylish, with a strong emphasis on fashion, in order to drive demand in China. While channel players were able to capture the imagination of their buyers, they unfortunately lacked the technology and manufacturing skill to deliver quality products.
Chen pointed out that these regional brands would be ideal partners for the Shuttle platform. Channel players could successfully develop their own unique industrial design and Shuttle would then provide services for ensuring that the design meets the platform requirements. Shuttle could also add additional services, such as digital printing technology to allow clients to print image on the chassis. Shuttle also offers the option of integrating notebook hardware into an all-in-one PC.
Chen believes that this type of flexible procedure will attract more regional brands to join into the alliance and this in turn will create more economies of scale, as more players share their resources with the alliance. Through the sharing of motherboards and modules, regional brands in different markets can combine to compete with first-tier brands.
China IT players should look outward, not fight inward
China-based notebook maker 3NOD Group chairman Zhixiong Liu pointed out that he is optimistic about the notebook industry's prospects over the next 5-10 years. However, he concurred that strong growth will naturally lead to fierce competition.
Liu pointed out that the current notebook ODM/OEM industry is already dominated by first-tier notebook makers and since their resources are already accounted for, China-based notebook brands that only have small shipment volumes are unlikely to receive much support from the top makers. Since these smaller brands are limited by a number of market challenges, they are unlikely to see any significant success. To break this cycle, he agreed with Shuttle that second-tier makers need to band together and provide services to local brand and create a new business model.
Compared to Taiwan notebook industry's close vertical integration, Liu thinks the regional notebook component suppliers in China should use their advantage in horizontal integration, virtually banding together with makers from other markets to establish a successful business model that can compete with first tier makers. He suggested southern China already has a number of small- to medium-size notebook and component makers that are already established. Though they lack economies of scale, their strength is their ability to react quickly to market demand.
Liu pointed out that if China wants to develop a notebook industry in the future, these types of suppliers need to band together to form a strong unified component supply chain – in other words a standardized manufacturing ecosystem. Taiwan has done an excellent job in this area and optimized its technological and manufacturing advantage, but in a vertical manner.
Therefore, China players will need to abandon their prejudice of viewing their local rivals as competitors and start cooperating closely (in a horizontal manner), even with smaller or new players. If every maker can help provide some service to small local brands, China's notebook makers should be able to see strong demand growth. If players do not adapt, China makers will never be able to gain any profit from their own local market, Liu noted. In addition, if China players can use such a strategy to expand their markets outside of China and grab 10% of the global notebook market, the business opportunity would be worth 30 million shipments a year.
However, in addition to development of a local supply chain, Liu believe China's notebook players will also require an internationalized operating strategy. Though China is a huge market, it is still limited, players will need to cooperate with international companies to gain a more global perspective. Liu noted that Taiwan players have an excellent globalized viewpoint, with knowledge of channel and talent. Therefore cross-strait cooperation should lead China brands to healthy growth.
As for three major factors of operation – cost, quality and speed – Liu believe quality is the basis of everything. A high quality product will require standardized design procedures, a reliable supply chain and firm industry guidelines. However, if China wants to outperform others, players should focus on time to market. Since China currently is still not able to compete against Taiwan for the other two factors, players should rely on their advantage in time to market. To do that, the whole industry will need to change and allow operations and management to become easier and more efficient, while cooperating horizontally to create winning opportunities.
Supply management and competition strategy for regional players
Brazil-based Intelbras S.A chief representative of Shenzhen office Zimin Song, citing the company's experience in operating a local notebook brand in Brazil and Pakistan, said the company's competition against first-tier brands has been very difficult since these players have strong local operations. If a local brand's response to market demand is slower or if its costs are higher than international brands, it will be at a strong disadvantage to compete.
Therefore, Song pointed out that having close and powerful supply partners will be one of the key ways for a regional brand to survive. He noted that quality of product is an important factor for choosing partners, so regional brands will need to strictly evaluate suppliers' R&D capabilities, product reliability and employee quality since regional brands and suppliers are far away from each other. If a regional brand does not confirm the quality of its suppliers, it may end up damaging its brand reputation.
A second factor is cooperation. Song noted that a regional brand and its suppliers should not simply have a buyer/seller relationship, but instead should form a community type of partnership. He mentioned that his company's relationship with Shuttle has helped it solve a lot of problems, such as significantly reducing development periods, while making it easier to react to changes in the market.
Advance president Robert Xue agreed with Song's statement and believes regional brands still have numerous business opportunities, even if first-tier notebook brands account for most of the market. Xue pointed out that regional brands should not compete head to head against first-tier brands, but instead operate in the parts of the market that are unreachable for larger brands. This may have been more difficult in the past, but with the establishment of a community platform and industry standards, it may become a more viable business model in the future.
3NOD vice president JY Bai also pointed out that in addition to product quality and sufficient funds, success in the notebook business also requires meeting a delivery date. For a notebook to have a smooth development cycle from R&D to market sales, the whole supply chain needs to be tightly connected to each other. If one component is in shortage, it will affect delivery and cause havoc downstream.
This is why Taiwan's first-tier notebook makers are so reliable. They control the resources of the entire supply chain. For regional brands to break free from this type of obstacle, the key will be to cooperate with suppliers throughout the supply chain, while also providing local brands choice for industrial design and color of notebooks to build uniqueness within their market, Bai noted.
Bai stated his company's cooperation with Shuttle has been a positive experience. Shuttle is experienced with notebook motherboard R&D, and is capable of providing various products quickly. The most important things is that Shuttle is willing to communicate with regional brands, and meet their specific demands.
Shuttle vice president Chen noted that as a notebook supplier, shuttle need to play its role. Shuttle's purpose is to open up the supply chain's barrier to allow more players to perform better. In addition to assistance in technology, Shuttle studies each regions customs and status, and discuss these issues with clients.
Following MediaTek's example
Digitimes Research analyst Joanne Chien, said Shuttle's business model is similar to that of MediaTek's successful support of the white-box handset market. Although MediaTek is just a chip supplier, the company has put a lot of resources into developing the entire supply chain. The company also provides valuable market information to its clients and a full suite of services.
In addition, a major difference between China's white-box industry and Taiwan's ODM industry is that Taiwan companies are led by their own individual supply chain, while white-box makers need to cooperate with many partners, or even competitors, for completing their product design, deciding their market position and handling related sales. This is a very special connection as many of these players are generating profit in a relationship that combines both competition and cooperation. However, such relationships may create problems that will require Shuttle and its partners to resolve.
On the subject, Bai commented that any two companies that form a partnership will require a period to get to know each other, but the most important factor is that the two firms need to reach a consensus for creating a win-win situation. Within the China market, the goal should be to expand their market beyond the borders rather than looking to fight among the local market only. If local players in China can successfully do that, all players will enjoy added benefits and profit.
Bai believes standardization is the key for regional brands to win, and noted that China players will need to form an alliance not only among themselves but also with Intel and Microsoft. He added that regional notebook brands can also cooperate with content providers to develop products that run content designed specifically for the region. Bai used the example of the iPad and said the current PC market has already entered a business model of bundling content with products. He also pointed out that regional brands should cooperate with other industries such as medical, insurance and finance to develop products that are designed to suit specific demand from different channels.
Chien concluded the forum by pointing out that there is a push for the notebook industry to use the same business model as desktop PC, and this will open up a new path for component makers and regional brands. The first issue that needs to be addressed is the establishment of product standards for reducing component costs and the entry barriers, as well as providing consumers with a variety of products that differ from mainstream products. Another challenge is how to use cross-strait cooperation to integrate supply chains and promote a counter to first-tier brands in the global notebook market.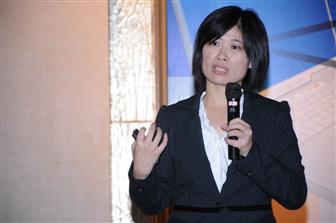 Joanne Chien, senior analyst Digitimes Research
Photo: Staff reporter, Digitimes, April 2010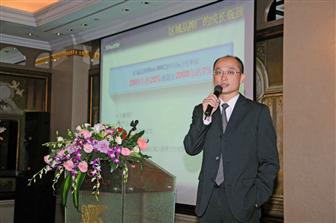 Kelvin Chen, Shuttle vice president of marketing
Photo: Staff reporter, Digitimes, April 2010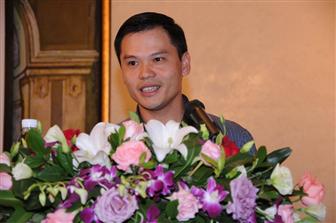 Zhixiong Liu, 3NOD Group chairman
Photo: Staff reporter, Digitimes, April 2010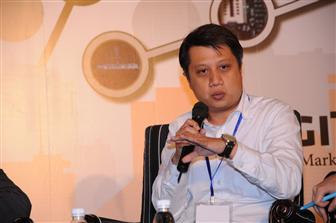 JY Bai, 3NOD Group vice president
Photo: Staff reporter, Digitimes, April 2010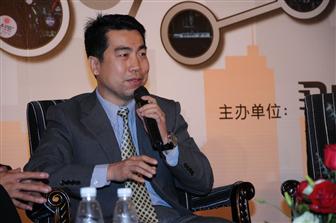 Zimin Song, Brazil-based Intelbras S.A (Shenzhen office)
Photo: Staff reporter, Digitimes, April 2010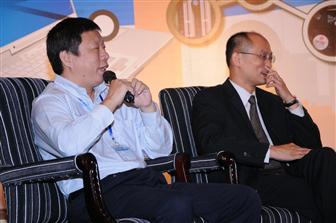 Robert Xue, Advance president (left)
Photo: Staff reporter, Digitimes, April 2010