Computex 2009: IC design house Yotta Labs debuts Yola 720 intelligent video-processing platform
Press release; Rodney Chan, DIGITIMES
Yotta Labs Technology, a fables IC design house founded by design experts in the field of video imaging algorithms and SoC (system-on-chip) design, will unveil the Yola 720 series, an HD-Image/Video SoC which is ideal for innovative multimedia applications targeted at consumer devices at Computex Taipei 2009.
This product will be on display at the company's booth (Hall 3, G645).
The device employs a multi-core application processor architecture, which allows for the implementation of intelligent applications on hardware. An integrated intelligent video processing engine enables system vendors to differentiate their video applications from competitors.
The video processor architecture found in the Yola-720series is also an exclusive technology developed by Yotta Labs. Called i.264, the proprietary technology features an advanced algorithm and data reuse schemes that enables enhanced power saving. This technology not only produces video at higher compression ratios - using the company's advanced implementation of H.264 technology - but is also equipped with intelligent applications that deliver efficiency to the video-platform.
The built in dual-core application processors allow customers to develop networking, imaging or other applications with maximum efficiency and highest responsiveness. The integrated DSP can capture and process high-definition motion and still images for image clarity.
The proprietary hardware-based real-time intelligence engine with advanced face detection, motion analysis and human shape detection functions allows CE product developers to design products with attractive and innovative applications.
The Yola-720 series is a highly integrated solution with versatile functions such as music playback, 10/100 Ethernet connectivity, HDMI/YPbPr high definition output interface and programmable 2D GUI engine. CE product applications that can take advantage of the Yola-720 include digital set-top box, IP set-top box, video surveillance, network camera, video conferencing, HD video playback/digital video recorders and other video related products and platforms.
The Yola 720 series is scheduled to be released in the third quarter of 2009. Reference system design, development board kit, related firmware, drivers and GUI development support are now available.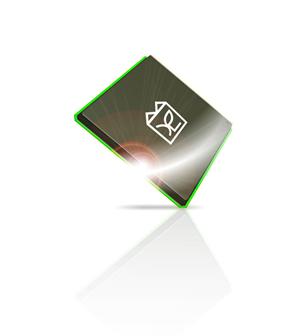 Yotta-Labs Yola-720series HD-Image/Video application processor
Photo: Company