Taiwan optical storage industry overview
Michael McManus, DigiTimes.com, Taipei. With reporting by Claire Sung, Betty Hsu and Jimmy Hsu.
Friday 28 May 2004
The overview you are trying to open requires news subscription. Please
sign in
if you wish to continue.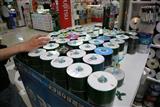 Global shipments of PC-use optical storage drives are expected to reach 220 million units in 2004. Although the overall optical drive industry will grow modestly this year, the DVD burner sector is likely to post strong growth.