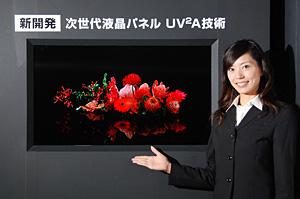 Sharp has developed a photo-alignment technology called UV2A (Ultraviolet-induced Multi-domain Vertical Alignment) for LCD panels that can precisely control the alignment of liquid crystal molecules in a simple LCD panel structure, according to the company.
Sharp said it will fully incorporate this technology as a core technology for the production of a new type of LCD panel that will evolve LCD TVs to the next generation.
Sharp has adopted a special material that responds to UV (ultraviolet) radiation. The UV2A technology controls the alignment of liquid crystal molecules in accordance with the direction of the radiation, the company highlighted. It can be termed "pico-technology" in that it goes beyond nanotechnology to control the tilt angle of liquid crystal molecules, which are only around two nanometers in size, with an accuracy measured in picometers, it added.