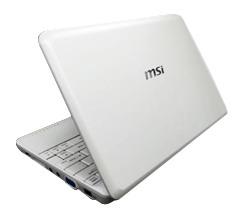 Micro-Star International (MSI) has announced its Wind series notebooks.
The Wind will come with either an 8.9- or 10-inch display option featuring LED backlight technology and a resolution of 1024x600.
The system weighs around 1kg, according to MSI, and includes a 2.5-inch hard drive with storage capacity of 80GB. The notebooks will include Windows XP and, unlike some other vendors, MSI has not mentioned any plans to offer a Linux-based version so far.