NXP Semiconductors has what it claims is the world's smallest ESD protection device
Photo: Company [Oct 30, 2008]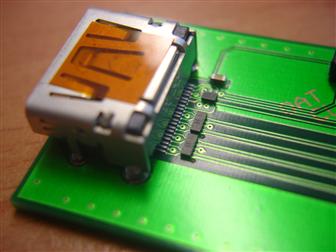 NXP Semiconductors has what it claims is the world's smallest ESD protection device for very fast data lines in an Ultra-Thin Leadless Package (UTLP) that achieves industry-lowest clamping voltage in a leadless package.
Consumer electronics such as TVs, notebook computers, set-top boxes, gaming consoles and DVD players, will be better protected from ESD voltage pulses, the company said.
Targeted at high-speed interfaces such as the HDMI 1.3 port, the new device, IP4281CZ10, delivers 8kV of contact ESD protection (level 4 according to the IEC61000-4-2 standard).
Key enhancements in NXP's latest ESD protection device (IP4281CZ10) include:
All pads are matched to 0.5mm traced high-speed lines such as TMDS (HDMI) and ML (DisplayPort), for easy impedance matching and integration
HDMI1.3a compliant
4-channel UTLP10 package for highest board space optimization compared to 2-channel or 8-channel solutions
Smallest package (1 x 2.5 x 0.5 mm3)
Pb-free and RoHS compliant