China PV industry development, by region
Chihheng Liang and Sophia Chen, DIGITIMES Research, Taipei
While Beijing has encouraged regional governments to develop the nation's solar PV industry, growth has been dramatic, as each local region attempts to develop its own industry clusters and supply chain. Solar wafer capacity in China will grow by 81% in 2011 to reach 35GWp, accounting for 67% of global capacity, while solar cell capacity will reach 37.3GWp. China's solar PV capacity alone will exceed total global demand. This Digitimes Research Special Report examines the regional solar strategies employed in China and the development of local players affecting the global PV market.
Abstract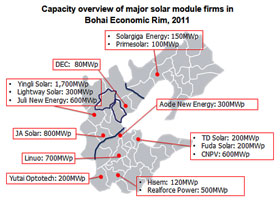 China's solar PV industry grew rapidly during the country's 11th Five-Year Plan, with most firms initially entering segments of the market that are labor-intensive, have low barriers to entry and high employment opportunities - namely the production of solar modules. China's local governments have also been enacting aggressive policies, setting up industrial parks, and providing generous subsidies to support the industry. China is now the home to industry leading firms such as Suntech, LDK, Yingli Solar, and Trina Solar.
In addition, starting in the first half of 2010, shortages were experienced in the global supply chain, from upstream polysilicon to solar cells. China-based solar firms jumped on the opportunity and began capacity expansion. Existing firms were aggressive with their vertical integration plans and firms from other industries sought to enter the market. By end of 2010, China accounted for more than 50% of global solar PV production capacity.
However, despite this wave of expansion shifting the market back to serious oversupply, capacity has continued expanding in 2011.
China's solar wafer capacity in 2011 will likely grow by 81% on year to reach 35GWp, accounting for 67% of global capacity. China's silicon-based solar cell capacity in 2011 will likely grow by 113% to reach 37.3GWp, approximately 62% of global capacity. Compared with estimated global solar PV system installations of 22GWp, China's solar PV capacity exceeds global demand.
As the oversupply condition continues, the market has been demanding products with higher conversion efficiency and of better quality, with products that lack such characteristics, and the related makers, likely to exit the market.
Table of contents
Price: NT$48,000 (approx. US$1,685)