First-tier motherboard makers launch GeForce GTX 460-based graphics cards
Monica Chen, Taipei; Joseph Tsai, DIGITIMES
Tuesday 13 July 2010
Taiwan-based motherboard/graphics card makers Asustek Computer and Micro-Star International (MSI) have announced their latest Nvidia GeForce GTX 460-based graphics cards.
Asustek has launch four models under its ENGTX460 line with prices set between NT$8,000-8,500 (US$249-265).
Asustek has adopted its DirectCU cooling technology, which is a technique placing copper heat-pipes, custom flattened and brought into direct contact with the GPU core for improved heat transference in some of the models, as well as its exclusive Voltage Tweak technology to enhance performance.
Meanwhile, MSI has launched two graphics cards under its N460GYX Cyclone series, the N460GTX Cyclone 768D5 and N460GTX Cyclone 1GD5, both equipped with, the company claimed, military-class components.
The graphics cards also feature MSI's self-developed Afterburner overclocking software as well as Cyclone cooling module, which allows faster heat dispensation and generates 15.7% less noise compared to standard fans.
The GeForce GTX 460 will come in two versions, 192-bit 768MB memory priced US$199 and 256-bit 1GB memory priced US$299. Most graphics card makers are already selling 768MB version GeForce GTX 460-based cards, while the 1GB versions will start mass shipments on July 26.
Nvidia is expected to launch the GeForce GTS 455/450 GPU, targeting a US$129-179 price range in August and will launch one more GF100-based GPU in September, targeting the US$100 and below price range.
The GeForce GTX 460 is equipped with 336 CUDA cores with 56 texture units.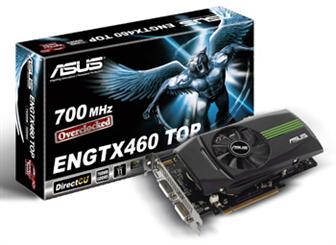 Asustek ENGTX460 TOP graphics card
Photo: Company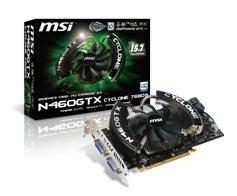 MSI N460GTX Cyclone series graphics card
Photo: Company