STMicroelectronics MEMS gyroscopes enable accurate angular motion detection in size- and power-constrained consumer applications
Press release, November 10; Meiling Chen, DIGITIMES
Geneva, November 04, 2009 – STMicroelectronics (NYSE: STM), the leading supplier of MEMS for consumer and portable applications, has expanded its motion-sensor portfolio with a broad range of thirteen new single- and two-axis gyroscopes. With more than a 50% shrink in volume over previous ST devices, reduced power consumption, and an aggressive price, ST's new high-performance angular-motion sensors open the way to a wide range of innovative consumer applications, including gesture-controlled gaming and pointing devices, image stabilization in digital video or still cameras, and assisted GPS navigation.
ST's newest single-axis (yaw) and two-axis (pitch-and-roll, pitch-and-yaw) MEMS gyroscopes fit in miniature packages of 3×5×1 and 4×5×1 mm3, respectively, addressing the size constraints of today's and tomorrow's consumer applications. Power consumption is another key factor, especially in battery-operated devices. Therefore, ST's gyroscopes include a power-down mode (when the entire device is switched off) and a sleep mode, in which part of the circuitry is turned off to significantly reduce power consumption while allowing very fast turn-on time and smart power cycling.
ST's new gyroscopes boast excellent stability over time and a wide temperature range (down to 0.02 dps/degrees C), eliminating the need for additional temperature compensation in the application. Measurement precision is ensured with a negligible level of output noise (down to 0.01 dps/sqrt(Hz), and wide bandwidth up to 560Hz, ensuring high accuracy and repeatability.
ST's MEMS gyroscope family offers the industry's widest full-scale range, from 30 to 6,000dps, covering a broad spectrum of applications that require high resolution and stability over time and temperature.
The robust manufacturing process of ST's 8-inch fab and packaging technology has already successfully built and delivered more than 600 million ST accelerometers in applications ranging from gaming systems to cellular handsets. Like these accelerometers, ST's high-performance MEMS gyroscopes are resistant to mechanical stress and come with improved built-in self-test capability that allows the customer to verify the functioning of the sensor after it has been assembled, without the need to move the board during testing.
"Today, the gyroscope market for consumer applications is around US$200 million and it is dominated by non-MEMS companies," said Benedetto Vigna, General Manager of STMicroelectronics' MEMS and Healthcare division. "ST's third-generation gyroscopes benefit from the same winning attributes that have helped us conquer the accelerometer market: proven manufacturing technology and robust design. These features will help us trigger the 'consumerization wave' for gyroscopes, and our in-house supply-chain management will enable ST to meet the customer demand."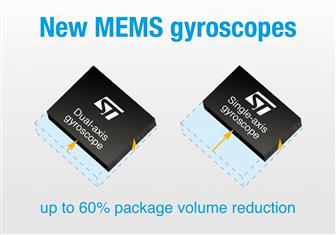 STMicroelectronics new single- (yaw) and two-axis (pitch-and-roll, and pitch-and-yaw) MEMS gyroscopes