CeBIT 2009: Alpha Networks to showcase all-in-one network media player
Press release; Jessie Shen, DIGITIMES
Friday 27 February 2009
Alpha Networks, a Taiwan-based network equipment maker, has unveiled its new network media player, BT (BitTorrent) Box, which will be showcased at the upcoming CeBIT Hannover in Germany on March 3-8.
With a built-in hard drive, the Alpha network media player is a plug-and-play network device that enables users to download files without PC from peer-to-peer BitTorrent networks, and to play and share all kinds of multimedia contents easily on a TV. BT-BOX offers video/audio decoding of all popular media formats, including RMVB/RM, WMV, MPEG-4, DivX, H.264, MKV, Avi, Asf, Vob, MP3, WMA, OGG, and AAC, as well as support for HDMI up to 1080i resolution.
Alpha's new model offers an easy-to-use interface, which allows users to program channels and organize contents. In addition, BT-BOX implements an external USB OTG.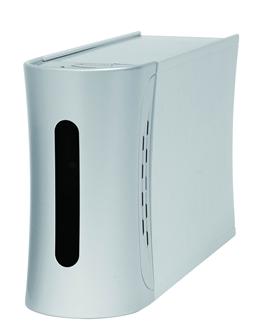 Alpha network media player BT Box
Photo: Company, February 2009