OCZ announces Nvidia SLI certified single-rail PSU
Press release, October 4; Joseph Tsai, DIGITIMES
Thursday 4 October 2007
OCZ Technology Group announced the release of the Turbo-Cool 1200 power supply from PC Power & Cooling.
PC Power & Cooling has designed the Turbo-Cool 1200 for optimum power distribution to all components by utilizing a custom single +12V rail design, according to OCZ.
The Turbo-Cool 1200 is SLI certified by Nvidia to run dual GeForce 8800 Ultra, the highest configuration currently available, according to OCZ, adding that the unit can deliver 1.2kW of continuous power with a 1300W peak through a complete array of connectors.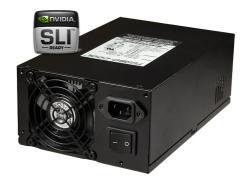 OCZ Turbo-Cool 1200 power supply
Photo: Company