AOpen launches AMD SFF PC using SiS chipset
Press release; Jessie Shen, DIGITIMES
Thursday 15 September 2005
Silicon Integrated Systems (SiS) announced today that small-form-factor (SFF) PC specialist AOpen will feature the SiS761GX northbridge chip and SiS965 southbridge in its latest 64-bit XC Cube platform, the EX761. The EX761 is AOpen's first 64-bit SFF offering that supports PCI Express (PCIe), the company stated.
The integrated SiS761GX chipset is equipped with a 3D graphics core and fully supports the AMD Sempron and Athlon 64 processors. The SiS761GX also supports PCIe graphics cards for better graphics performance.
The EX761 offers S/PDIF (Sony Philips Digital Interface) and coaxial cable outputs, for connecting to digital audio output devices, such as amplifiers and multi-channel speakers. The EX761 is designed to support strong gaming features, with the DirectX9 compliant system built with SiS Mirage 1 graphic engine and 256-bit 3D accelerator engine with up to 3.2GB per second in bandwidth.
In addition to audio/video performance, The EX761 is built with a CPU cooler that contains heat dissipation liquid inside the heat pipe and supports better thermal performance. The system also provides four USB 2.0 ports.
The compact EX761 measures only 190×200×320mm in dimension and is 8.4lb (3.8kg) in weight.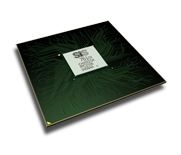 SiS761GX northbridge
Photo: Company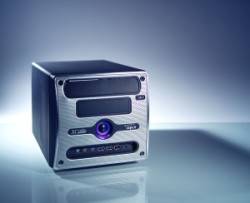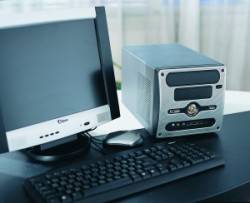 AOpen EX761 SFF PC
Photo: Company
AOpen: August 2004 - August 2005 revenues (NT$m)

Month

Sales

M/M

Y/Y

YTD

Y/Y

Aug-05

742

23.1%

(39.8%)

6,765

(33.4%)

Jul-05

603

(7.4%)

(44.9%)

6,024

(32.5%)

Jun-05

651

(6%)

(41.3%)

5,421

(30.7%)

May-05

692

(20.4%)

(39.9%)

4,770

(29%)

Apr-05

870

(25.7%)

(39.6%)

4,078

(26.8%)

Mar-05

1,170

17.6%

(17.8%)

3,209

(22.2%)

Feb-05

995

(4.6%)

(27.4%)

2,038

(24.6%)

Jan-05

1,043

4.9%

(21.7%)

1,043

(21.7%)

Dec-04

994

(29.7%)

(25.5%)

15,292

(13.3%)

Nov-04

1,414

(3.3%)

(6%)

14,298

(12.3%)

Oct-04

1,463

15.3%

(9.8%)

12,884

(13%)

Sep-04

1,269

3%

(22.8%)

11,421

(13.4%)

Aug-04

1,232

12.7%

(31.7%)

10,152

(12%)
*Figures are not consolidated
Source: TSE, compiled by Digitimes, September 2005
AOpen: 2Q 2004 - 2Q 2005 revenues (NT$m)

Quarter

Sales

Q/Q

Y/Y

YTD

Y/Y

2Q-05

2,210

(31.1%)

(40.4%)

5,419

(30.8%)

1Q-05

3,209

(16.8%)

(22.2%)

3,209

(22.2%)

4Q-04

3,858

7.2%

(14.4%)

15,291

(13.3%)

3Q-04

3,600

(2.9%)

(30%)

11,433

(12.9%)

2Q-04

3,708

(10.1%)

4.9%

7,833

(2%)
*Figures are not consolidated
Source: TSE, compiled by Digitimes, September 2005
AOpen: 2Q 2004 - 2Q 2005 balance sheet (NT$k)

Item

2Q-2005

1Q-2005

4Q-2004

3Q-2004

2Q-2004

Current assets

3,713,110

4,418,009

4,761,573

5,563,594

7,077,858

Long-term investments

1,185,177

1,544,624

1,527,788

1,556,715

1,453,066

Fixed assets (net)

777,478

775,343

743,314

733,946

721,290

Other assets

83,674

84,934

116,517

94,743

110,914

Assets

5,759,439

6,822,910

7,149,192

7,948,998

9,363,128

Current liabilities

3,302,757

3,968,242

4,258,892

4,250,534

5,349,215

Noncurrent interest-bearing liabilities

300,000

0

0

0

Other liabilities

117,787

237,962

230,665

250,981

262,525

Liabilities

3,720,544

4,206,204

4,489,557

4,501,515

5,611,740

Stockholders' equity

2,038,895

2,616,706

2,659,635

3,447,483

3,751,388
*Figures are not consolidated
Source: TSE, compiled by Digitimes, September 2005
AOpen: 2Q 2004 - 2Q 2005 income statement (NT$k)

Item

2Q-2005

1Q-2005

4Q-2004

3Q-2004

2Q-2004

NT$k

% of sales

NT$k

% of sales

NT$k

% of sales

NT$k

% of sales

NT$k

% of sales

Gross sales

2,225,756

3,191,102

3,858,045

3,614,978

3,717,069

Operating revenue

2,210,354

99.3%

3,208,526

100.5%

3,858,031

100%

3,600,101

99.6%

3,708,321

99.8%

Gross profit (loss) from operations

-50,700

-2.3%

194,789

6.1%

-409,748

-10.6%

44,794

1.2%

-413,475

-11.1%

Operating expenses

186,967

8.4%

186,647

5.8%

232,855

6%

270,444

7.5%

285,519

7.7%

Operating income (loss)

-228,127

-10.2%

-25,661

-0.8%

-607,842

-15.8%

-225,650

-6.2%

-643,994

-17.3%

Non-operating revenues and gains

95,255

4.3%

30,731

1%

9,452

0.2%

24,474

0.7%

-2,452

-0.1%

Non-operating expenses and losses

437,421

19.7%

23,786

0.7%

58,996

1.5%

62,832

1.7%

51,096

1.4%

Income from continuing operations before income tax

-570,293

-25.6%

-18,716

-0.6%

-657,386

-17%

-264,008

-7.3%

-697,542

-18.8%

Net income (loss)

-577,221

-25.9%

-27,431

-0.9%

-657,386

-17%

-264,008

-7.3%

-701,215

-18.9%
*Figures are not consolidated
Source: TSE, compiled by Digitimes, September 2005