170 news items tagged e-paper
E Ink Holdings (EIH) has developed a 2.9-inch e-paper ultra-thin display turnkey solution, according to the company.

E Ink Holdings (EIH) has shifted its focus to electronic labeling, auxiliary smartphone screens, smart wearable devices, exterior display boards and electronic display panels, the...

Visionect and E Ink have launched a new system for creating large electronic paper signs: a development kit for designing 32-inch digital signage solutions, supporting the largest...

E Ink Holdings (EIH) has offered e-paper displays up to 32-inch and is currently developing even larger products, with some set to be released in 2016, according to company chairman...

E-paper maker E Ink has announced plans to invest in China-based Weifeng via its subsidiary. The two companies will form a partnership on ESL e-tags.

Electrophoretic technology-based electronic paper (e-paper) display maker E Ink Holdings will showcase a variety of applications of e-paper display technology at the Touch Taiwan...

Global demand for e-paper from e-book reader vendors is decreasing mainly due to competition from tablets and as a result, several vendors including Toshiba, Sony and Panasonic have...

E Ink Holdings is likely to see its business for the second half of 2014 swing to profitability mainly due to growing orders for electronic tags from the US and Europe, and increased...

E Ink Holdings (EIH) on June 3 announced a 32-inch color or black & white e-paper display mainly for digital signage and information kiosks.

E Ink Holdings on December 3 announced that it has started production of Fina, a new thin and light e-paper display based on thin-glass TFT technology, and PocketBook International,...

HOLUX Technology Inc., a manufacturer and professional designer of GPS, is preparing to launch a newly outdoor GPS - SporTrek 1170 with flexible electronic paper display (EPD).

Taiwan-based EPD (electrophoretic display) maker E Ink Holdings (EIH) will raise additional paid-in capital through issuing up to 60 million new shares for private placement, according...

E Ink Holdings (EIH) has reported NT$234 million (US$8 million) in losses during the third quarter of 2012, or a loss of NT$0.21 per share.

Taiwan-based EPD (electrophoretic display) maker E Ink Holdings (EIH) is expected to see its business operation in the third quarter of 2012 turn into profitability from consecutive...

Taiwan-based EPD (electrophoretic display) maker E Ink Holdings (EIH) saw consolidated revenues of NT$2.556 billion (US$85.3 million) for August hike by 40.67% on month but drop by...

E Ink, the world's largest electronic paper display (EPD) supplier has signed a patent cross-licensing agreement with Sharp to use TFT and LCD technologies.

Bridgestone announced on May 15 plans to stop producing all e-paper products in October 2012. Delta Electronics, Bridgestone's partner in e-paper products, indicated that Bridgestone...

Hanvon Technology, the largest China-based vendor of e-book readers, has released its unaudited 2011 financial report, recording consolidated revenues of CYN533.193 million (US$82.4...

Despite a decline in revenues in November, E Ink Holdings (EIH) will still be able to reach its goal of shipping 25-30 million EPD (electrophoretic display) products in 2011 with...

E Ink Holdings (EIH) will suspend a cooperation agreement it signed with LG Display for the production of FFS (fringe field switching) LCD panels and will buy back a sum of corporate...

Electrophoretic display (EPD) maker E Ink Holdings (EIH) saw its revenues grow 16% on month and 93% on year to an all time high of NT$5.329 billion (US$178 million) in October, according...

Bruce CH Cheng, chairman of Taiwan-based power supply firm Delta Electronics, has revealed a plan to launch e-paper devices above 40-inch in the second half of 2012. The main applications...

E Ink Holdings (EIH) has announced that it is taking part in FPD International 2011 in Yokohama from 26 to 28 October at Booth No. 6506. E Ink is showcasing a variety of e-paper displays...

Display technologies, such as touch, 3D and e-paper, will be the focus at FPD International 2011 taking place in Yokohama, Japan, from October 26-28. Major players including AU Optronics...

AU Optronics (AUO) is in talk with Taiwan's biggest convenience store chain under Uni-President on introducing electronic shelf labels (ESLs) into the local market as early as 2012...
Related photos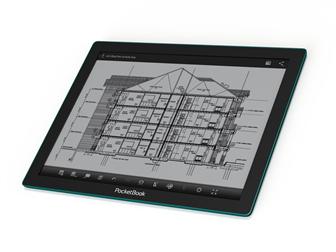 PocketBook CAD Reader equipped with E Ink Fina
Photo: Company, Wednesday 4 December 2013

Seiko Epson controller platform for e-paper products
Photo: Company, Friday 29 October 2010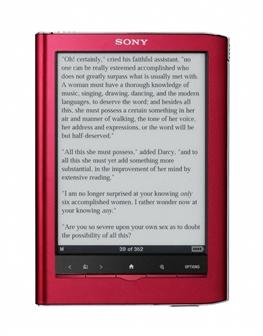 Sony e-book reader, the PRS-650 Touch Edition
Photo: Company, Tuesday 14 September 2010
Related news around the web