127 news items tagged 3D TV
Sales of 3D TVs accounted for over 10% of total LCD TV sales in the China market during the Labor Day holidays in early May 2011, with models coming from China-based TV vendors accounting...

The price for large-size TV panels is expected to climb out of the trough, according to industry sources. Demand in the China TV market has been considerable since the May 1 Labor...

Driven by a pronounced change in marketing and promotion strategies as well as price declines and an increasing availability of content, worldwide shipments of 3D TVs will catapult...

Despite the weak demand on the consumer end causing doubts in the growth of LED-backlit LCD TVs, the growth of CCFL models in the market is still curbed, according to Paul Peng, executive...

LG Electronics (LGE) expects its share of Taiwan's LCD TV market to expand to 25% in 2011, from 14% in 2010, and sales of 3D TVs will account for 5% of total LCD TVs it sells in the...

In the China market, as many as 12 vendors have unveiled 3D LCD TVs ranging from 37 to 55 inches and many of them will launch pricing campaigns to promote their 3D sets in the upcoming...

Following its successful launch of glass-free 3D TVs in late 2010, Toshiba is expected to launch its glass-free 3D notebooks in the second half of 2011, according to industry sources...

With sales in China, the middle East, and Asia Pacific regions, BenQ aims to boost its LCD TV sales to 400,000-500,000 units in 2011, up from 200,000-30,000 units in 2010.

Samsung Electronics is actively promoting Smart TV to compete with Sony's Google TV and aims to ship 12 million units in 2011, accounting for 30% of the global Smart TV shipments.

The LCD TV market in China will become mature in 2012 with annual sales growth to drop to 10% compared to a 40% growth recorded in 2010 and a 15-18% growth projected for 2011, according...

Chimei Innolux (CMI) has showcased a series of 3D display panels covering from 23.6- to 65-inch at the FPD China 2011, and the company expects to account for 20% of the three million...

LG Electronics (LGE) is optimistic about 3D business opportunities and plans to introduce a complete 3D series of products in Taiwan, and expects 3D to become a basic function for...

Pricing for flat-panel TVs in the United States fell for a third consecutive month in February as manufacturers sought to clear old inventory and make room for new 2011 models, according...

Taiwan-based LCD TV maker Amtran Technology has announced consolidated revenues of NT$5.4 billion (US$183.55 million) for February 2011, up 21% sequentially and 26% on year.

Vizio is expected to remain in the top position in the North America LCD TV market in the 2010, according to Amtran Technology, a major maker of LCD TVs for Vizio.

Global TV shipment growth improved in the fourth quarter of 2010 after falling sharply in the third quarter of 2010, rising 15% on year to a record 77.6 million units, according to...

Taiwan Semiconductor Manufacturing Company (TSMC) has announced a collaboration with National Taiwan University (NTU) to develop what the foundry claims is the world's first 3D TV...

AU Optronics (AUO) plans to start shipments of glasses-free 3D products, mainly for IT (notebook and monitor) products, in 2011 and expects glasses-free 3D technology to become mainstream...

An estimated 67% of large-size LCD panels will use LEDs in 2011, compared to 44% in 2010, and the shipments of large-size LED-backlit LCD panels will reach 495.6 million units in...

At the International Consumer Electronics Show (CES), Samsung Electronics, continued to raise the industry bar for plasma TVs with its extended plasma TV line-up of 16 new models...

At the International Consumer Electronics Show (CES), Samsung Electronics has unveiled new LED TV series that redefine the home entertainment experience and add a touch of refined...

Samsung Electronics and Sony are both preparing to promote their smart TV businesses at CES 2011, which will start on January 5. Samsung is displaying its smart TV advertisement on...

Seoul, Korea (Jan. 5, 2011) − LG Display, a leading innovator of TFT-LCD technology, showcased its film patterned retarder (FPR, polarized glasses type) 3D panel at a kickoff...

Las Vegas and Tokyo - (Business Wire) - Toshiba Corporation will invite visitors to the CES 2011 to experience how life can be "Fun and Easy by Leading Technology" with...

Overall flat-panel TV sales during the New Year to Lunar New Year period in China are expected to drop due to their being about ten days of holidays fewer compared to 2010.
Related photos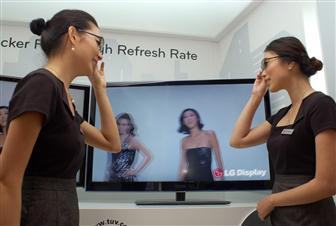 CES 2011: LG Display's FPR 3D panel
Photo: company, Wednesday 12 January 2011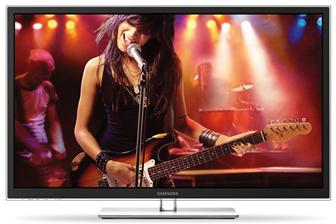 CES 2011: Samsung D6500 full HD 3D plasma TV
Photo: company, Tuesday 11 January 2011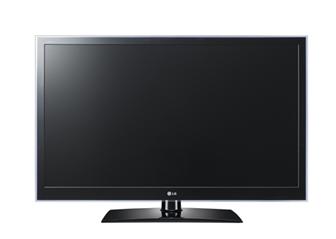 CES 2011: LG Cinema 3D TV, the LW6500
Photo: company, Thursday 6 January 2011
Related news around the web