84 news items tagged Computex 2009
Nanya Technology has introduced Elixir DDR3 1600 XMP (Extreme Memory Profiles), a gaming memory module of its retail product line. The memory chipmaker is performing live demonstration...

Ablecom Technology, a digital media solution provider, is showcasing its touchscreen digital photo frame (DPF), the HR-401T, at the ongoing Computex Taipei 2009 from June 2-6, 2009...

Taking a look at notebook offerings at Computex Taipei 2009, much of the media attention will be focused on global top-10 notebook vendors Acer and Asustek Computer and their latest...

Taiwan's Walton Chaintech is showcasing memory products including a lineup of SSDs with capacities up to 250GB, and DDR3 modules overclocked to 2133MHz at the ongoing Computex Taipei...

While US-based Qualcomm has been a major player driving growth in the wireless handset market over the past 20 years, the company is now looking to expand its market scope into mobile...

Thanks to the success of its Wind netbook, first-tier motherboard makers Micro-Star International (MSI) has been able to successfully transition from motherboards to notebook production,...

The Solid State Drive Alliance (SSDA), founded in October 2008 by 12 leading companies in the industry, has started to show progress in its mission for implementing an SSD standard...

The Taiwan External Trade Development Council (TAITRA) is hosting a booth at Computex Taipei 2009 to showcase dozens of award-winning quality and innovative ICT products from Taiwan...

Alpha Networks, a major player in the networking ODM/OEM industry, is showcasing its full-featured and easy-to-use solutions for IP set-top-box (IP STB) and high-definition (HD) media...

Yotta Labs Technology, a fables IC design house founded by design experts in the field of video imaging algorithms and SoC (system-on-chip) design, will unveil the Yola 720 series,...

Accordance Systems and its subsidiary Abeauty Technology are exhibiting together at Computex Taipei 2009, with the companies focusing on RAID 1 and RAID 5 solutions at the show.

Nvidia built its name around satisfying PC gamers' desire for better graphics, higher resolutions, and higher frame rates, from one GPU generation to the next. But around five years...

Acer is expected to announce cooperation with Insyde Software, a developer of BIOS software and UEFI-based firmware over a new instant-on software feature for Acer's Aspire One netbook...

The display of related WiMAX technology and products will continue to be one of the major themes of Computex 2009, highlighted by the participation of more overseas chipset solution...

ARC International and Realtek Semiconductor have agreed to bundle the ARC Sonic Focus suite of audio enrichment software with Realtek codecs shipped to its OEM and ODM customers globally...

Daniel Alegre, vice president, Asia Pacific sales and operations at Google, will attend the CEO summit of Computex Taipei 2009 and also deliver a speech on the latest development...

Windows 7 is expected to attract much attention at next week's Computer Taipei 2009, where Microsoft will be staging its biggest Computex ever at the event to demonstrate how its...

Attendance at Computex 2009 is expected to be less than the show hosts, the Taiwan External Trade Development Council (TETDC) and Taipei Computer Association (TCA) originally forecast...

Taiwan motherboard maker Elitegroup Computer Systems (ECS) is beefing up its own-brand sales activities particularly in China, North America, Latin America and Southeast Asia, according...

While the global economic climate has led some companies to take a more conservative approach toward this year's Computex Taipei 2009 show, Microsoft is aggressively pushing forward,...

AMD plans to showcase its new notebook platform (Tigris) at Computex 2009, according to a Chinese-language Commercial Times report. The new platform consists a 45nm dual-core...

Asustek Computer, on May 13, launched the 10.1-inch ultra-thin Eee PC 1008HA in both Taiwan and Hong Kong priced at NT$19,000 (US$578). The company expects the netbook's shipments...

China-based makers, including Haier, Founder, Tsinghua Tongfang, Hasee, Great Wall and Malata, will showcase netbook PCs at Computex Taipei 2009 (scheduled for June 2 through 6) in...

Computex Taipei 2009 will be held as scheduled from June 2-6 despite growing concerns of an outbreak of swine flu, according to show organizers, the Taiwan External Trade Development...

IC design house Elan Microelectronics has recently landed an order for touch panel modules for High Tech Computer's (HTC's) Android-based G2 handsets, with volume shipments slated...
Related photos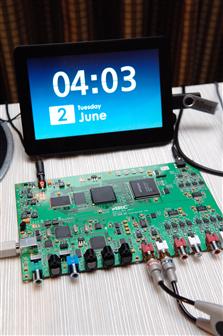 Computex 2009: ARC Sound-to-Silicon solution targets media phones
Photo: Company, Tuesday 28 July 2009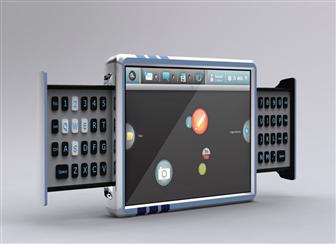 Computex 2009: Freescale eyes future netbook concepts and form factors
Photo: Company, Tuesday 28 July 2009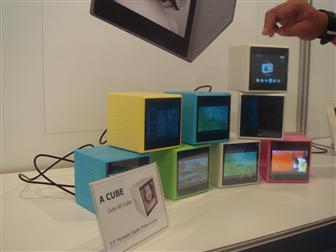 Computex 2009: Amstar 3.5-inch multi-function digital photo frame
Photo: Yvonne Yu, Wednesday 8 July 2009