87 news items tagged Kindle
Amazon's first tablet device, the Kindle Fire launched on September 28 with a price of US$199, has shocked market watchers and with the company's strong content and service platform...

Amazon definitely will maintain its leadership in the e-book reader segment by offering its latest generation Kindle at US$79, according to industry sources in the Kindle's supply...

Sales of Amazon's Kindle Fire tablet PCs may not be significant outside of the US and Europe as Amazon lacks strength in channel sales, according to industry sources.

Amazon has introduced an all-new Kindle family: three all-new Kindle e-readers that are smaller, lighter, and more affordable, and Kindle Fire – a new class of Kindle that brings...

Amazon is expected to debut its first tablet PC, the 7-inch Kindle Fire, for launch in November 2011 soon, but the new tablet will not be able to shake up the already firm market...

Leading e-paper supplier E Ink Holding (EIH) expects worldwide e-book reader shipments to stay on course to reach its estimated volume of 25-30 million units in 2011, with the company...

Taiwan-based notebook maker Quanta Computer has recently received OEM orders from Amazon for its reported tablet PC, according to sources from upstream component makers. The device's...

Demand for e-book readers remained strong in first-quarter 2011, with global shipments soaring 236% on year to 4.8 million units. Digitimes Research believes global e-book reader...

Taiwan-based electrophoretic display (EPD) maker E Ink Holdings (EIH) has announced consolidated revenues of NT$1.6 billion (US$50.3 million) for August 2010, increasing 2.57% sequentially...

Seattle, Jul 01, 2010 (Business Wire) - Amazon.com today introduced the new latest generation Kindle DX and new lower price of US$379, down from US$489, and still with free 3G wireless,...

The move by Barnes and Noble as well as Amazon to slash the prices of their e-book readers reflects a fundamental change in their business strategy intended to counter the rising...

Amazon and Barnes and Noble have announced reduced prices for their e-book readers, Kindle and nook, to US$189 and US$199, respectively from about US$259.

Global e-book reader shipments from manufacturers to vendors in April-May 2010 reached 740,000 units, with Barnes & Noble's nook accounting for 37% and Amazon's Kindle trailing...

Manufacturers' e-book reader shipments to Barnes & Noble surpassed those to Amazon in March 2010, as demand for nook was picking up, according to Digitimes Research.

Shipments of 9.7-inch e-book readers are expected to grow 300-320% on year in 2010 and the surging demand may cause Prime View International (PVI) to face a capacity shortage, according...

Prime View International (PVI) is gearing up its EPD shipments to clients for the year-end shopping season, company chairman Scott Liu has said, amid reports that two of its major...

BenQ has introduced its own-brand e-book reader, the nReader, and plan to launch it together with its online e-book trading platform in Taiwan in January 2010 and then in Japan and...

This year is likely to be remembered as a watershed in the evolution of e-books and e-readers with several milestones and product launches standing out as catalysts for change in...

LCD panel maker Chi Mei Optoelectronics and electrophoretic display (EPD) maker Prime View International (PVI) have signed a memorandum of collaboration for EPD production. PVI has...

The global market for e-paper displays will grow at a compound annual growth rate (CAGR) of 124% from 2008 through 2013, and will exceed US$2.5 billion by the end of that period,...

Japan-based Fujitsu has launched its color e-book reader, the ELEPia, in the Taiwan market, targeting the sports marketing segment initially. The ELEPia has an 8-inch screen with...

Hydis, a subsidiary of Taiwan-based electrophoretic display (EPD) and LCD panel maker Prime View International (PVI), is expected to reach 100% utilization at the end of September...

Gold Circuit Electronics (GCE) has cut into the supply chain of Amazon's Kindle e-book products, and shipment volume is expected to reach 50% of Amazon's demand in the second half...

E-book shipments are taking off, with worldwide shipments expected to grow from almost one million units in 2008 to close to 30 million in 2013, according to In-Stat. This rapid shipment...

Prime View International (PVI) has announced that it has signed a definitive agreement to acquire E Ink, a supplier of electronic paper display materials and intellectual property,...
Related photos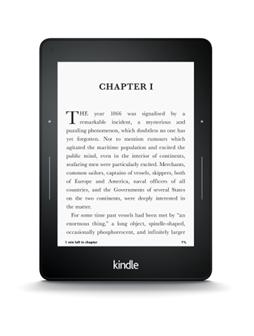 Amazon Kindle Voyage
Photo: Company, Friday 26 September 2014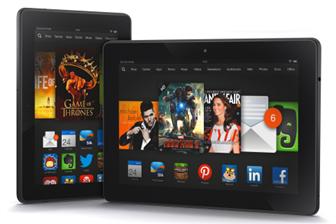 Amazon Kindle Fire HDX tablets
Photo: Company, Tuesday 1 October 2013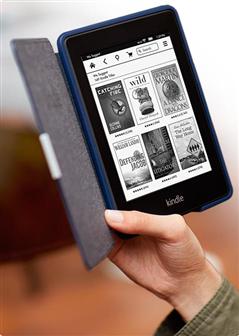 Amazon Kindle Paperwhite e-book reader
Photo: Company, Monday 17 September 2012
Related news around the web