163 news items tagged flat panel
While conventional thin film TFT LCD displays are rapidly trending towards commoditization and currently suffering from declining prices and margins, China is quickly adding capacity...

Led by declining TFT LCD revenues, global flat panel display (FPD) industry revenues are forecast to fall 2% from US$131.4 billion in 2014 to US$129 billion in 2015. Dwindling TFT...

Revenues for flat panel display (FPD) manufacturing equipment are expected to grow for the third consecutive year to reach US$9.1 billion in 2015, according to IHS. This level of...

Once focused on unit growth, the entire global flat-panel display (FPD) industry is now shifting to focus on area-demand growth. According to IHS, display panel shipments for all...

Interactive whiteboards (IWB) and interactive flat panel displays (IFPD) in the education and corporate segments achieved close to 440,000 unit sales globally in the third quarter...

The flat panel display industry is expected to see 5% annual growth from 2014-2017, according to sources at Sharp.

Global sales of interactive whiteboards and interactive flat panel displays in the education and corporate segments reached 1.3 million units in 2013, up 1% on year and making it...

According to DisplaySearch, the vast majority of spending on flat panel display manufacturing equipment to expand production capacity is occurring in China, and the trend is likely...

The output value for the flat panel key components industry in Taiwan during the third quarter of 2013 reached NT$135.8 billion (US$4.59 billion), up 1.3% on quarter, according to...

Held every two years, the Merck LC Insight seminar is a communication platform for Merck and Taiwanese display innovation experts to discuss the topics of latest liquid crystal materials...

APLEX Technology Inc., a global industrial computer product solution provider, recently announced its newest stainless steel panel PC - APC-3593P that comes with IP65/IP69K certificated...

This Digitimes Research Special Report outlines and analyzes the key trends and players that are influencing the continued development of China's large-size and small-to medium size...

For the second month in a row, global shipments of flat panel TVs fell in July compared to year-ago levels, dampening hopes that the market will achieve any growth in 2013, according...

Richtek Technology and Global Mixed-mode Technology (GMT) have seen a rebound in orders from TV and display clients recently, which could enhance their performance for the third quarter...

The interactive whiteboards and flat panel displays in the education and corporate sectors saw sales growth of 20% in first-half 2013 despite personal tablets' expanding penetration...

According to the latest research from Futuresource Consulting, the market for professional displays declined by 0.7% quarter-on-quarter in the second quarter of 2013, but experienced...

The FPM-7181W and FPM-7211W are 18.5" and 21" widescreen multi-touch truly flat panel monitors, specifically designed to provide easier operation and boost productivity...

Taiwan is continuing to lose engineers in the LCD panel industry to China-based players amid increasing competition from panel makers to bump up their technology and production capacity,...

The global large screen public display market is forecast to grow at 23% compounded annually from 2013 through 2017, according to research firm DisplaySearch. The growth comes after...

Bringing an end to a full year of declines in 2012, global flat panel TV shipments rose slightly in the first quarter of 2013, paving the way for marginal growth in 2013, according...

In the China market, 4.27 million flat panel TVs were sold in the peak period from April 15 to May 5, increasing 7.7% from the same period in 2012, according to China-based All View...

Sales in the professional flat panel display segment grew 8.5% on quarter, and posted a strong on-year result, up more than 30% to reach 523,000 units in during the first quarter...

Global flat panel display (FPD) TV shipments fell by 10% in February 2013 and by an estimated 4% in March compared to the same months in 2012 as demand in China plunged following...

Demand for larger screens, higher resolution, and advanced touch functionality on smartphones and mobile PCs, in particular tablets, is expected to boost small- to medium-size flat...

Approximately 37% of flat panel TVs sold in China during 2012 were smart TVs and the number is expected to climb to 50% in 2013, according to market observers.
Related photos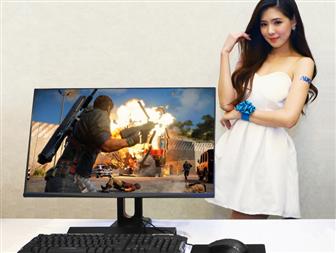 AUO 144Hz 4K gaming monitor panel
Photo: Company, Friday 3 June 2016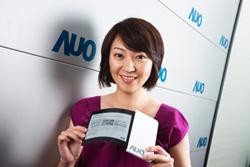 AUO 6-inch flexible e-paper
Photo: Company, Wednesday 21 October 2009
Related news around the web