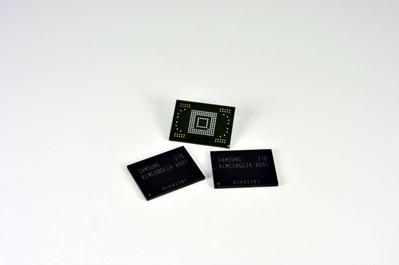 Samsung Electronics has begun volume production of an ultra-fast embedded memory for smartphones, tablets and other mobile devices in 16-, 32- and 64-gigabyte (GB) densities.
The new Samsung eMMC Pro Class 1500 reads data sequentially at up to 140MB/s and write it at up to 50 MB/s. For random reading and writing, it can process up to 3500/1500 IOPS, four times the speed of previous eMMC solutions, the vendor said.
The ultra high-speed storage device uses Samsung's 64-gigabit (Gb) NAND with a toggle DDR 2.0 interface based on the company's latest 20nm-class process technology.
To meet the market need for thinner designs for high-end mobile devices, Samsung offers the new eMMCs in two, four- and eight-die stacks with the largest capacity of 64GB's being only 1.2 millimeters thick.