Nvidia Tesla K20 GPU accelerator
Photo: Company
Thursday 17 May 2012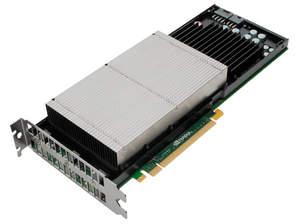 Nvidia has unveiled a new family of Tesla GPUs based on Nvidia Kepler GPU computing architecture, which makes GPU-accelerated computing easier and more accessible for a broader range of high performance computing (HPC) scientific and technical applications.
The new Nvidia Tesla K10 and K20 GPUs are computing accelerators built to handle the most complex HPC problems in the world. Designed with an intense focus on high performance and extreme power efficiency, Kepler is three times as efficient as its predecessor, the Nvidia Fermi architecture, which itself established a new standard for parallel computing when introduced two years ago, the vendor said.
Nvidia developed a set of innovative architectural technologies that make the Kepler GPUs high performing and highly energy efficient, as well as more applicable to a wider set of developers and applications including SMX Streaming Multiprocessor, Dynamic Parallelism and Hyper-Q, it said.