Philips LED inspection lamp
Photo: Philips
Friday 23 September 2011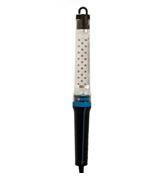 Philips' inspection lamp bathes the surrounding area in a bright white light with an intensity of 2400 lux. The 45 high-powered LEDs are arranged in such a way that they illuminate evenly with an angle of 180 degrees, the vendor said.
The lamp's slim design and 10 meter cable mean that even difficult-to-access areas can be reached easily, Philips said. The adjustable mounting hook is also practical, with both hands being kept free for working. Another version is also available with a 24V industrial plug to meet the workplace safety requirements in certain European countries.
The LED inspection lamp is water and dust-protected and also offers strong impact resistance.