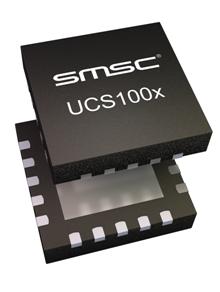 SMSC has announced that it is breaking new ground in USB port power charging with the industry's first programmable USB power controller.
The controller comes in three models - the UCS1001-1, UCS1001-2 and UCS1002 - and offers advanced USB based charging capabilities for engineers designing host devices such as notebook or desktop computers, monitors, docking stations, printers as well as dedicated AC-DC products such as wall adapters.
The UCS1001 and UCS1002 are both available in a 20-pin QFN 4x4mm package. Samples of these models are currently available.
"USB ports are now considered global charging sources, but the technology has not yet reached its full potential because many portable devices have unique charger requirements. Without products such as the UCS1001 and UCS1002, sub-standard or no charging can result," said Mitch Polonsky, director of Product Marketing for Analog Products and Technology at SMSC. "The UCS1001 and UCS1002 enable electronics designers to emulate virtually any charger, promoting fast and efficient power charging regardless of which brand of portable device is plugged into the USB port. Our programmable UCS port power controllers finally enable USB to converge on its promise as a universal charging source for billions of devices around the world."