AMD FirePro V7900 graphics card
Photo: Company
Thursday 2 June 2011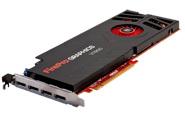 AMD has introduced the newest generation of professional graphics card - AMD FirePro V7900. Created for the design, engineering, financial, and medical fields, the new graphics cards offer AMD PowerTune and GeometryBoost technologies in addition to AMD Eyefinity multi-display support to enhance workflow and application performance.
New for this generation of AMD FirePro products is AMD PowerTune technology. This power management technology provides direct control over GPU power usage. Also new for this generation is GeometryBoost technology - a hardware capability that processes two primitives per clock cycle, ensuring smooth handling of complex models for CAD and DCC users.
AMD FirePro V7900 professional graphics cards feature four outputs from one card, enabling the ability to drive four independent displays from a single slot card. Additionally, this graphics card includes the ability to support framelock and genlock via the AMD FirePro S400 synchronization module as well as 3D stereo with the included expansion bracket.