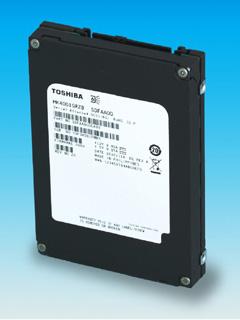 Toshiba has announced its new family of enterprise-class solid state drives (SSD). The new MKx001GRZB series combines Toshiba's hard disk drive (HDD) expertise and its leadership as the inventor of NAND flash technology.
The 2.5-type small form factor drives use Toshiba's latest 32nm enterprise grade single-level cell (SLC) NAND flash memory and a 6Gb/sec SAS interface. Samples will be available for customer qualification in the first quarter of 2011.
Toshiba also announced a new lineup of high capacity near line HDD with a 3.5-type form factor.
Available in capacities of 100GB, 200GB and 400GB, the MKx001GRZB family of SSD drives are designed for ease of integration into new or existing tier-0 enterprise storage systems and designs, including servers, direct-attached storage and network-attached storage, the vendor said.
The drives deliver performance that outpaces competing enterprise-class SSDs, with random sustained 90,000 read and 17,000 write IOPS and sequential sustained 510MB/sec read and 230MB/sec write throughput. This realizes read speeds more than three times faster than for Toshiba's current enterprise HDD. Combined with a low power requirement of only 6.5 watts in operation, Toshiba's SSD family also delivers an industry-leading power efficiency rating of 13,800 IOPS/Watt.