Samsung 8GB RDIMM utilizing 3D TSV technology
Photo: Company
Thursday 9 December 2010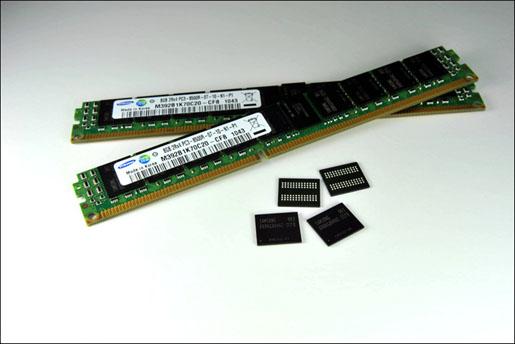 Samsung Electronics has announced its new 8GB DDR3 module was developed using 3D chip stacking technology, which is also referred to as through silicon via (TSV).
Samsung claimed its TSV technology is a key to solving the paradox of driving lower power consumption in servers, while increasing memory capacity and improving performance.
The new 8GB RDIMM utilizing its 3D TSV technology saves up to 40% of power as compared to a conventional RDIMM, the vendor said. Also, the TSV technology allows for improvement in memory chip density that is expected to offset the decrease of memory sockets in next-generation server systems. In the face of a 30% decrease in memory slots in next-generation servers, Samsung said its TSV technology will be able to raise the DRAM density by more than 50% making it highly attractive for high-density, high-performance server systems.
Samsung also plans to apply the features of its TSV technology to 30nm-class and finer process nodes. The company expects the widespread adoption of 3D TSV technology to take place from 2012.