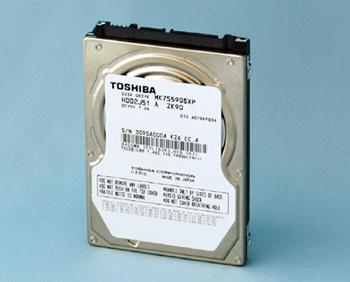 Toshiba has announced two additions to its 5,400-rpm line of 2.5-inch HDDs.
In the standard 9.5mm high, two-platter design, the MK7559GSXP HDD features an areal density of 839.1M bit/mm2 and capacity at 750GB, making it ideal for mobile applications. Sample shipments of the drives will start from April, 2010.
Toshiba also introduced a new three-platter 12.5mm-high platform - the MK1059GSM - with 1TB of storage. This capacity point was predominantly supported by larger form factor 3.5-inch HDDs until the introduction of high-end 2.5-inch solutions, providing low-power, space-saving opportunities to system manufacturers looking to differentiate or update their products.
The new offerings expand Toshiba's mobile HDD product line into the highest-capacity segment of the 2.5-inch HDD market, and represent the company's first mobile HDD platforms developed with the combined engineering resources from the integration of Fujitsu's HDD business, which Toshiba acquired last fall.