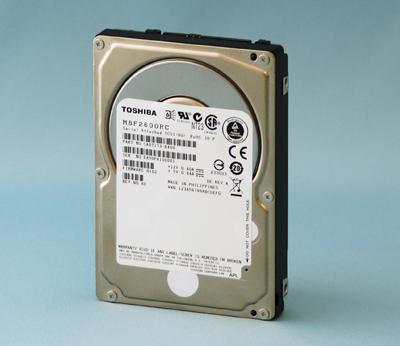 Toshiba has launched a high-performance, low-power HDD line for enterprise applications. The new MBF2600RC family brings 2.5-inch drives into the enterprise space, with no compromise in capacity or performance, the company claims.
The line-up features a 600GB drive, currently the industry's highest capacity for 2.5-inch enterprise-class HDD, and rounds out the range with 300GB and 450GB capacities.
The MBF2600RC family supports a 6Gb/s SAS interface data transfer rate and a 10,02- RPM rotation rate, a city 16MB buffer memory and faster data processing than the MBD2300RC. Improved linear recording density boosts the internal data transfer rate by 13%.
The new drives also offer an optional drive-based encryption design that secures data when end of lease, during disposal and recycling.
In addition, the MBF2600RC family delivers significant better environmental performance than the MBD2300RC generation of 2.5-inch HDD, including a 45% improvement in energy consumption efficiency. It is compliant with the European Union's RoHS directive and halogen-free.