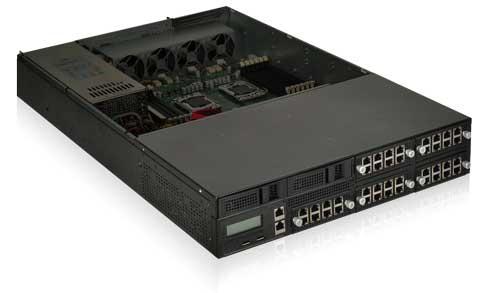 Lanner Electronics has announced the FW-8910, a new 2U rackmount dual-CPU appliance built around two Intel Xeon C5500 processors and supporting up to 40 Gigabit Ethernet ports.
The Lanner FW-8910 targets the performance segment of the network security, NAC, WAN Acceleration and ADC markets, and offers the features of Intel's new C5500 processor, such as integrated memory controller, integrated PCI Express 2.0 controller and Quick Path Interconnect (QPI) technology.
"As a member of the Intel Embedded Alliance, Lanner strives to lead the industry in developing the most advanced hardware platforms on the latest Intel technologies such as the Intel Xeon processor C5500-series and Intel 3420 chipset," said Jesse Chiang, Product Planner, Lanner Network Communications. "Network security and acceleration solutions demand the highest levels of performance for enterprise-class networks, and performance is what the Lanner FW-8910 delivers."
"The new Xeon C5500-series feature multi-core and multi-threaded processing, allowing for vast improvements in network packet processing efficiency," said Frank Schapfel, director of marketing, Intel Performance Products Division. "Directly connecting GbE and 10GbE MACs to the integrated PCI Express controller allows network appliance manufacturers such as Lanner, to easily add sophisticated network connectivity."
A 2U rack mount platform, the FW-8910 includes up to five customized Ethernet modules for a combination of up to 40 LAN ports combining GbE copper, fiber and bypass port options. Furthermore, the FW-8910 supports multiple 10Gbps cards, either fiber or 10G Base-T copper, Lanner highlighted. Twelve DIMM sockets support up to 96GB DDR3 memory, and four 2.5-inch hard drives allow for RAID based data protection. High availability features include