Kingston SSDNow V series 30GB boot drive
Photo: Company
Monday 25 January 2010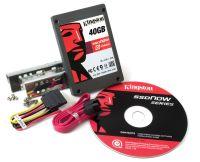 Kingston Technology has announced the SSDNow V Series 30GB boot drive, the latest addition to its V (Value) family of solid-state drives (SSD).
The SSDNow V series 30GB boot drive offers Windows 7 TRIM support, which helps the SSD maintain high performance through the life of the drive.
Kingston will also offer a solution for performance-minded enthusiasts looking to install a RAID configuration consisting of two 30GB SSD boot drives and two sets of mounting brackets and data and power cables.
The Kingston boot drive has an MSRP of US$109.99 (for US market), and will begin shipping in February.