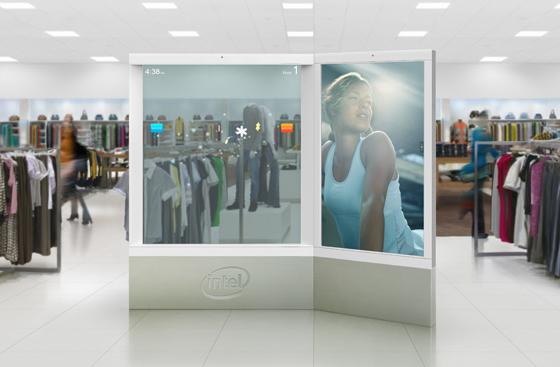 Intel has demonstrated a new 7-foot-6-inch multi-user, multi-touch Intel Intelligent Digital Signage concept at the National Retail Federation Convention (NRF) in New York. Intel said the prototype device could change the way people interact with digital signage technology in environments such as stores, airports, banks and hotels.
Multiple consumers can use the side-by-side window display simultaneously to explore augmented reality-enabled maps of each floor of the store, on which retailers can superimpose images such as coupons and sales promotions next to product visualizations on the glass, improving the customer's shopping experience.
Intel's digital signage concept also brings a new opportunity for advertisers through the use of anonymous video analytics. As a viewer looks at the system screen, the built-in camera technology analyzes data such as gender and age, audience composition, time-of-day and other criteria, which enable the system to display tailored content and graphics based on estimated demographics. The system anonymously sends audience information to advertisers who can use that information to understand the type of content and messages that are most popular with viewers. This, in turn, helps advertisers target their advertising to maximize the impact on the audience.