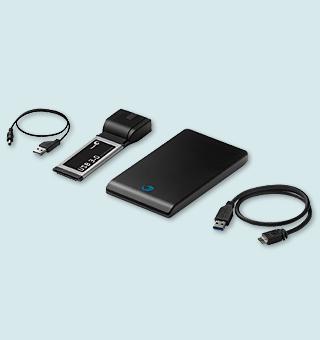 Seagate has unveiled the BlackArmor PS110 USB 3.0 portable external hard drive performance kit for notebook computers. This all-in-one USB 3.0 toolkit, exhibited at CES 2101, packages a 500GB 7200RPM 2.5-inch portable hard drive, power cable and PC express card, to deliver speeds up to three times faster than its USB 2.0 predecessor.
Seagate said the new USB 3.0 interface allows easy transfer of large files to and from the external drive at sustained transfer rates of 100MB/s. With the BlackArmor PS 110 USB 3.0 drive, a 25GB HD movie can be transferred in just four minutes versus the 14 minutes it would take using a traditional USB 2.0 drive.
Seagate also said its USB 3.0 portable hard drive performance kit couples all the safety and security of the existing BlackArmor PS 110 with the increased performance of USB 3.0 in a 12.5mm form factor.
Citing IDC, Seagate believes the USB interface is the most prevalent interface and will continue to dominate as the interface of choice through 2011.
The new BlackArmor PS 110 USB 3.0 performance kit can be purchased immediately from Seagate.com for a manufacturer's suggested retail price of US$179.99.