AUO 58-inch 2.35:1 aspect ratio ultra wide home theater display
Photo: Company
Tuesday 27 October 2009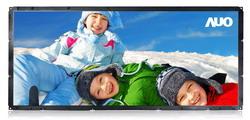 AU Optronics will showcase its 58-inch 2.35:1 aspect ratio ultra wide home theater display at the FPD International 2009, held in Yokohama Japan, from October 28-30, 2009.
The 58-inch ultra wide 2.35:1 TV display has a 2560x1080 resolution and can display 2.35:1 aspect ratio films without black bars.
The display also features 120Hz double frame rate, which will provide viewing experiences just like in the theater.