MSI R5870-PM2D1G graphics card
Photo: Company
Monday 26 October 2009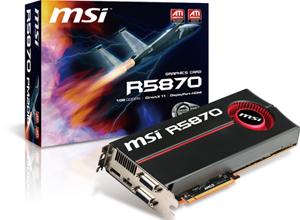 First-tier graphics card maker Micro-Star International (MSI) has launched its latest graphics cards based on AMD's ATI Radeon HD 5800 series GPUs.
MSI offers a high efficient radiator that comes with a heat-pipe, heat-sink and fans for its cards, while the radiator's high-tuned and integrated two-slot design can decrease GPU temperatures rapidly, while still delivering noiseless performance.
MSI also offers DOT Express technology for dynamic overclocking. The technology is designed to deliver up to 10% extra performance and enhances synchronized GPU and DDR memory performance.