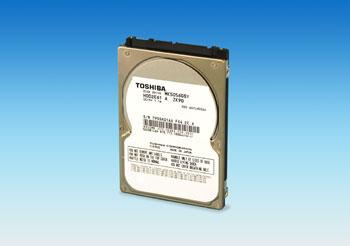 Toshiba has announced a new family of high-performance 7,200-rpm 2.5-inch HDDs, including a top-end drive with a half-terabyte capacity. Mass production of the series will start in October, the company said.
The new Toshiba HDD series offers capacities of 160GB, 250GB, 320GB and 500GB for commercial and consumer notebooks, gaming notebooks and all-in-one desktops.
In operation, the drives deliver significant performance improvements over Toshiba's previous generation of 7,200-rpm drives. Data is transferred at 1,255Mb/s, a 23% boost, and energy consumption efficiency is raised by 28%, the company remarked.