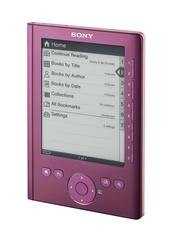 Sony has released two new Readers, one of them being the PRS300 pocket edition, which will be available at the end of August.
The PRS300 sports a 5-inch electronic paper display and is available in a variety of colors, including navy blue, rose and silver.
The PRS300 is easy to navigate with one hand, and fits into a purse or jacket pocket, the company highlighted. The device can store about 350 standard e-books and provides up to two weeks of reading enjoyment on a single battery charge.
Through the e-book store from Sony (ebookstore.sony.com), users can access more than one million free public domain books from Google, according to the company. It will be available for US$199.