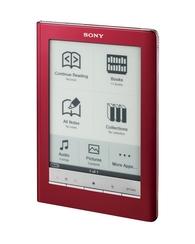 Sony has released two new Readers, one of them being the PRS600 with a touch screen. It will be available at the end of August, the company said.
The new e-book reader features a 6-inch touchscreen that enables navigation, page turning, highlighting and note taking with the swipe of a finger or by using the included stylus pen, Sopny said. Users can take handwritten notes with the stylus pen or type with the virtual keyboard. All notes can be exported and printed out for reference.
The PRS600 includes an onboard Oxford American English Dictionary, and offers five adjustable font sizes, as well as expansion slots for both Memory Stick PRO Duo and SD card.
Through the e-book store from Sony (ebookstore.sony.com), users can access more than one million free public domain books from Google, the Japan-based vendor said. It comes in red, black or silver and will retail for about US$299.