Toshiba to launch 64GB SDXC card
Photo: Company
Thursday 6 August 2009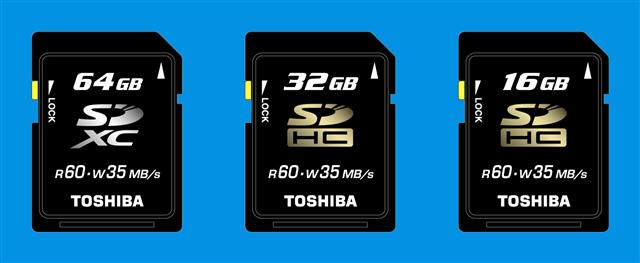 Toshiba has announced the launch of a 64GB SDXC memory card based on version 3.0 of the SD Memory Standard, with the samples ready this November.
Toshiba also unveiled 32GB and 16GB SDHC cards compliant with the world's fastest data transfer rate, saying the samples will be available in December.
Both new SDXC and SDHC cards deliver a maximum write speed of 35MB per second, and a read speed of 60MB/s. The combination meets the needs of a wide range of consumer electronics applications such as digital still cameras and digital camcorders, the company said.
The SDXC card is the next-generation standard defined by the SD Association in January 2009. The new standard applies to cards with capacities over 32GB and up to 2TB, compared to the SDHC standard, which applies to cards with capacities over 2GB and up to 32GB.