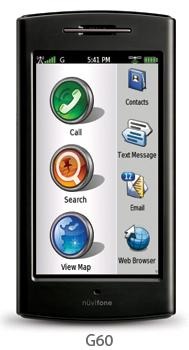 The Garmin-Asus Nuvifone G60 is now available in Taiwan, and will be available in Singapore and Malaysia by the end of August 2009. Also in August, the Garmin-Asus Nuvifone M20 will go on sale in Taiwan, Hong Kong, Singapore, Thailand and Malaysia.
The Nuvifone G60 comes with preloaded maps for North America, Eastern and Western Europe, or specific Asia-Pacific regions, and preloaded points of interest (POIs) including hotels, restaurants and street addresses.
Its also incorporates 3.5G data connectivity, SMS text messaging, email, Wi-Fi, Bluetooth and a built-in camera with auto-focus.