Pentax shock and waterproof Optio W80
Photo: Business Wire
Monday 29 June 2009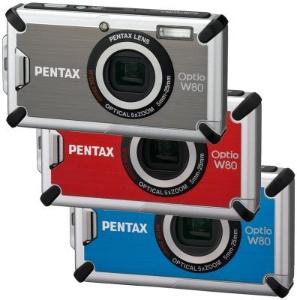 This latest Pentax digital camera is waterproof, dustproof, coldproof, and it is shockproof enough to withstand impact from a fall of more than three feet.
It features 12.1 megapixels, a 5X internal optical zoom (equivalent to 28-140mm), a slim body, and a wide angle 28mm lens.
A Super Protect (SP) coating applied to the mineral crystal cover of the internal zoom lens helps repel water, grime and finger marks, the company said.
The Optio W80 will be Available in red, blue and gray in July 2009 for US$299.95.