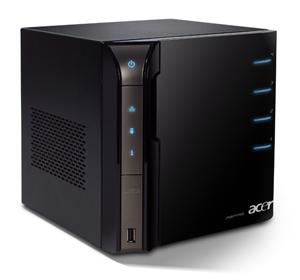 Acer has announced the Aspire easyStore home server for customers in the US. Designed for households and home-based businesses with multiple PCs, Aspire easyStore offers a way to network home computers, centralize, share and protect digital data as well as access it remotely from outside.
Smaller than standard servers, the server measures 8.3-inch (H) x 7.8-inch (W) x 7.08-inch (L) with the power button located on the top of the chassis for easy access and reach, according to the company. One-touch USB copy button enables quick file uploading, which users can just plug in the USB device and press the button for the data to automatically sorted and stored by file type into designated folders.
The server is outfitted with an Intel Atom processor 230, 2GB DDR2 memory and 1TB hard drive. The server also offers three hot-swappable hard drive bays for storage expansion.
The Acer Aspire easyStore AH340-UA230N home server is available now in the US for a price of US$399.99.