Seoul Semiconductor 120lm/W SMD LED
Photo: Company
Thursday 14 May 2009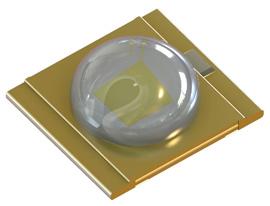 Seoul Semiconductor has announced a new 120 lm/W high-efficiency, SMD type LED, the LCW100Z1, for general purpose lighting.
As an ultra-thin LED with dimensions of 3.5mm x 2.8mm x 1.6mm, the LCW100Z1 delivers up to 7.8lm (at 0.06W) at the low current of 20mA, and 14.3lm at 40mA with a viewing angle of 120 degrees in cool white.
The LCW100Z1 LED comes in three ranges of correlated color temperature including pure white, warm white and natural white.