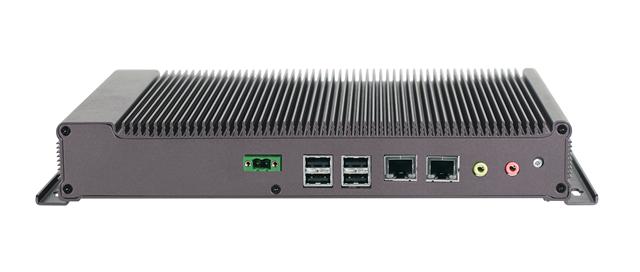 Lanner Electronics has announced the launch of a compact Intel Atom-based industrial PC (IPC) with extended temperature range and industrial-use I/O interfaces.
The Luge LEC-2050 is Lanner's first Intel Atom-based industrial PC designed to operate in harsh industrial environments, from negative 40 to 60 degrees Celsius, said Lanner. It also supports an extended power input range (DC +24V) and dual-power inputs via Phoenix connector and standard DC in jack. The fanless system measures 43mm in height, and provides dual-video (VGA and DVI), dual-Gigabit LAN, four COM ports and four USB ports, along with SATA 3Gb/s and CompactFlash storage support, highlighted Lanner.
The system includes 512MB of DDR2 memory onboard, expandable to 2GB via SO-DIMM and a 1.6GHz Intel Atom CPU.
Lanner industrial PCs are ruggedized platforms that can withstand extremes of temperature, shock, and vibration. The Luge LEC-2050 is designed for industrial applications such as industrial control, communications and measurement, said Lanner. Lanner offers 5-7 years availability for its entire line of Luge embedded computing platforms, the company added.
The Luge LEC-2050 is available for immediate orders.