Samsung D400 DLP data projector
Photo: Company
Monday 20 April 2009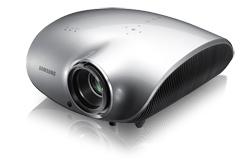 Samsung has introduced the D400 data projector to its front project product line up.
The D400 is for users searching for high performance in color and brightness with low operating noise, and for use in larger venues, such as auditoriums and lecture halls, the company said.
The D400 features 3000:1 contrast ratio, 1024x768 resolution, and 4,000 ANSI lemens of brightness.
The product is priced at US$1,999.99.