TI Impedance Track battery fuel gauge for handheld electronics
Photo: Company
Wednesday 11 March 2009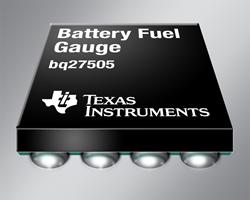 Texas Instruments (TI) has introduced single-cell battery fuel gauge ICs with Impedance Track technology, which is half the size of its predecessor.
The tiny bq27505 stand-alone lithium battery capacity monitoring and reporting device resides in the system and measures only 2.5mm x 2mm x 0.625mm, and supports portable applications.
Impedance Track technology predicts battery capacity under all operating conditions, including battery age, temperature and discharge behavior, the company said.