Samsung 32-inch touchscreen LCD display - 320TSn
Photo: Company
Friday 6 March 2009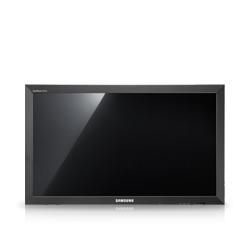 Samsung introduced a 32-inch touchscreen LCD display - the 320TSn. The product features touch-sensitive infrared (IR) technology with a 3mm protective LCD glass panel.
The 320TSn features 3000:1 contrast ratio, 16:9 aspect ratio, and two built-in high-powered 10W speakers. It also comes with built-in PCs running Windows XPe, and Samsung's proprietary MagicInfo-Pro content management software which can control the display remotely over the network, said Samsung.
Four types of anti-image retention can be set to be activated automatically throughout the day, contributing to longer panel life and greater reliability.